Ratatouille Cheese Bread
Prep Time: 20 Min | Cook Time: 30 Min | Servings: 4 | Calories: 210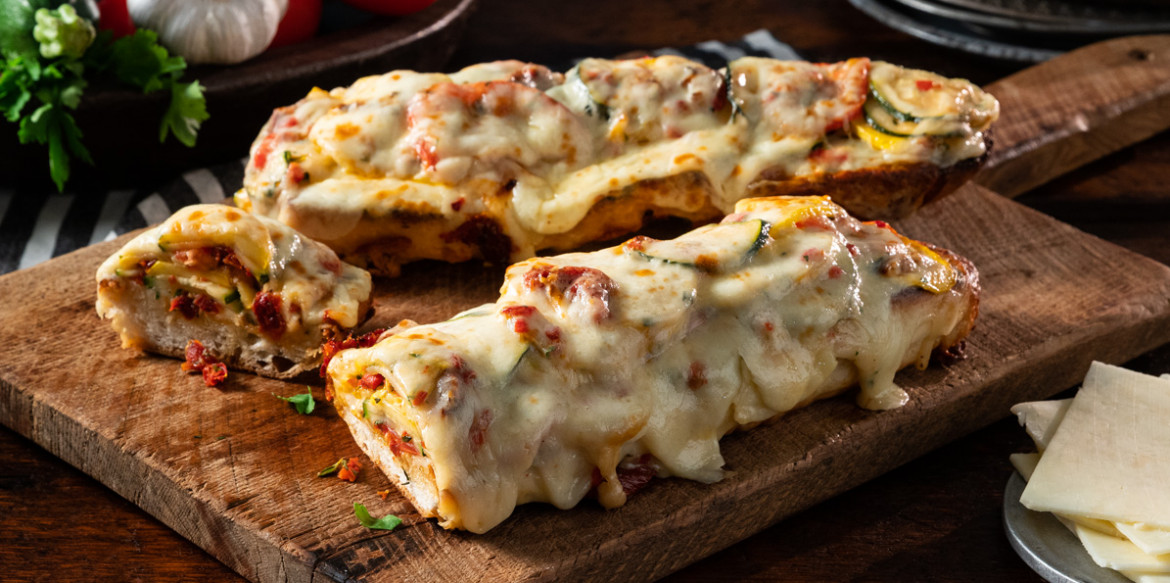 ---
<p>This bread is doubly cheesy with the bold flavor of Sargento® Reserve Series™ Aged Italian Blend Cheese melted on the bottom of the grilled bread and atop all the veggies. Add a mixed-greens salad for a complete meal or serve as a side dish or a party appetizer.</p>
Ingredients
1 small French loaf, split lengthwise
3 tbsp butter, melted
2 tsp garlic, minced
1/2 tsp Kosher salt
1 small zucchini, thinly sliced on the bias
1 small yellow squash, thinly sliced on the bias
1/4 cup roasted red pepper, finely chopped
1/4 cup oil packed sun-dried tomatoes, chopped
2 tbsp oil from sun-dried tomatoes
1 med. Roma tomato, thinly sliced
2 cloves garlic, chopped
2 tbsp parsley, chopped
1 tbsp fresh thyme leaves
1 tsp kosher salt
2 pkgs. Sargento® Reserve Series™ Aged Italian Blend
Directions
Combine butter, garlic and salt in a small bowl. Brush both sides of bread with garlic butter.
Grill over medium high heat for 1-2 minutes or until golden brown. Transfer bread to a baking sheet with tongs. Set aside
FOR RATATOUILLE MIXTURE: In a large bowl, combine, zucchini and next 9 ingredients. Gently toss to blend ingredients.
Spread 1/2 of cheese over bread. Spoon ratatouille mixture over cheese. Place baking sheet with bread on a medium / hot grill over indirect heat. Cover grill and cook for 20 minutes.
Add remaining cheese slices to top of bread and grill covered for an additional 10 minutes or until cheese is melted and lightly browned. Cut into pieces and serve.
---