Cauliflower Mac Recipe
Prep Time: 5 Min | Cook Time: 15 Min | Servings: | Calories: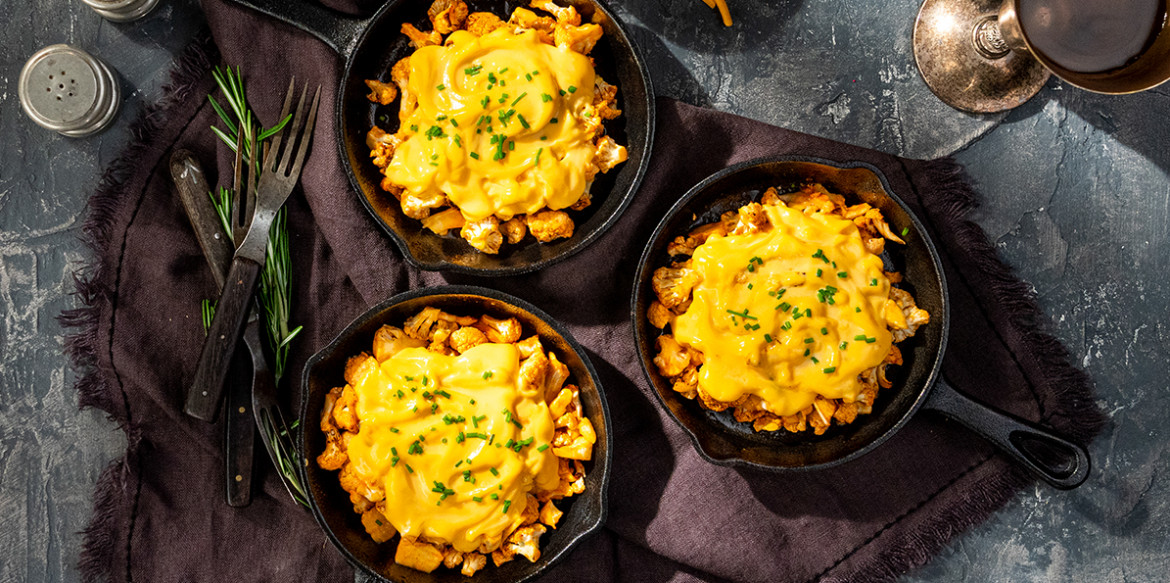 ---
Cauliflower, buffalo sauce and Sargento® Cheddar collide with this super cheesy, spicy and keto-friendly roasted cauliflower mac.
Ingredients
1 hd. Cauliflower, cored and cut into small florets (about 4 cups)
1/3 cup Bottled buffalo hot sauce (hot or mild)
1 Tbsp. Butter, melted
½ cup Heavy whipping cream
1 ½ cups Sargento® Sharp Cheddar or Creamery Cheddar Cheese
1 tsp. Chopped chives, optional
Directions
Pre-heat oven to broil. Place top oven rack 4-6 inches from the flame or heating element. In a large bowl, combine buffalo sauce and butter until well blended. Add cauliflower florets to bowl and toss to coat. Transfer mixture to a greased baking sheet, making sure florets are spread out in a single layer.
Broil cauliflower for 10-15 minutes or until tops are slightly charred. Stir mixture once during cooking if necessary. When cauliflower is crisp tender, remove pan from oven and keep warm until ready to serve.
While cauliflower is in the oven, make cheese sauce by bringing cream to a simmer in a small saucepan over medium low heat. Slowly whisk in cheese. Reduce heat to low and simmer until cheese is completely melted into cream, stirring often. Keep warm.
When ready to serve, transfer cauliflower to a serving bowl and pour cheese sauce over the top. Sprinkle with chives if desired and serve.
---