Oaxacan Chicken Burritos Recipe
Prep Time: 10 Min | Cook Time: 20 Min | Servings: | Calories: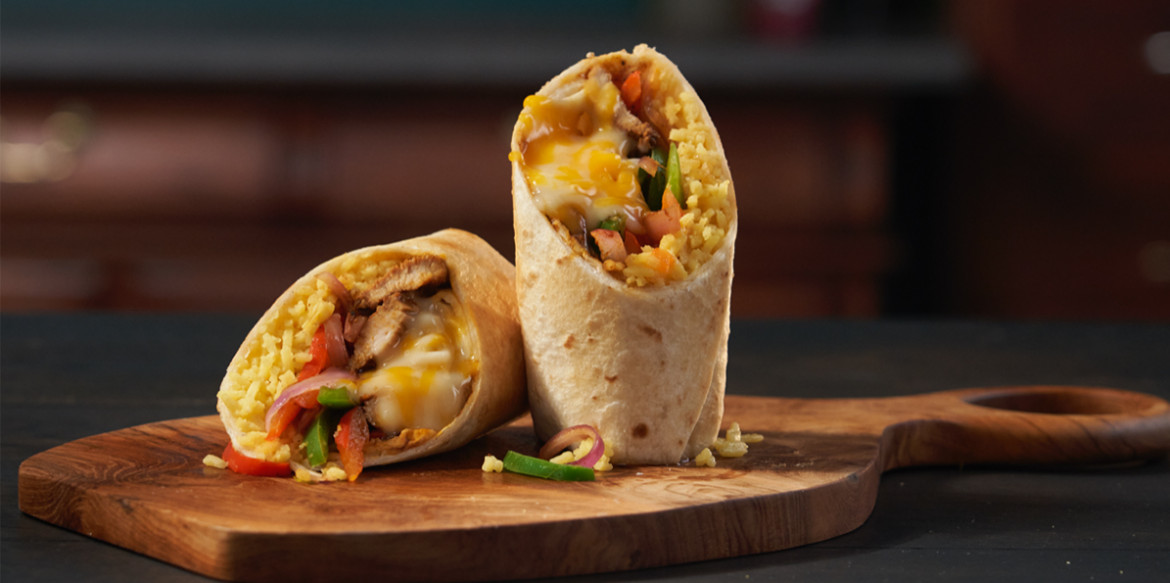 ---
These full-flavored burritos combine Sargento® Sharp Cheddar-Jack Cheese, Mexican rice, bell peppers, onions and chicken simmered in mole' sauce in a large flour tortilla, then warmed.
Ingredients
½ cup Mexican rice mix
1 cup Water
2 Tbsp. Vegetable oil, divided
1 lb. Boneless, skinless chicken breasts, cut into strips
6 ozs. Prepared mole' sauce
1 small Red onion, cut into strips
1 cup Red bell pepper, cut into strips
1 cup Green bell pepper, cut into strips
4 lg. Flour tortillas, warmed
Directions
In a medium saucepan, bring 1 cup of water and 1 tablespoon of oil to a boil. Stir in rice mix. Reduce heat to low, cover and simmer for 20 minutes or until water is almost evaporated. Remove pan from heat and transfer rice to a bowl. Set aside to cool.
Meanwhile, pre-heat a large, non-stick skillet over medium heat. Add 2 tsp of remaining oil, then chicken. Cook chicken for 6-8 minutes, stirring often until well browned. Add the mole' sauce to the pan and stir until chicken is well coated. Reduce heat to low. Simmer for 15 minutes. Transfer mixture to a bowl and set aside.
Pre-heat another large skillet over medium heat. Add remaining oil, then peppers and onions. Saute' for 3-4 minutes or until softened. Transfer mixture to a bowl and set aside.
To assemble burritos: Place one flour tortilla on a clean, flat surface. Sprinkle ¼ cup of the cheese horizontally on the lower third of the tortilla, spoon ¼ of the chicken and sauce over cheese. Place ¼ of the pepper and onion mixture over the chicken. Spoon ¼ of the Mexican rice over the peppers and onions. Sprinkle another ¼ cup of cheese over the rice. Starting from the bottom, fold bottom of tortilla away from you over the filling. Fold in sides as you continue to roll up the tortilla, ending with the seam side down. Repeat with remaining tortillas and filling. Wrap each burrito with plastic wrap and refrigerate until ready to serve. To serve, microwave burritos for 1-2 minutes or until heated through. Serve.
---