Sweet Corn Arepas
Prep Time: 20 Min | Cook Time: 10 Min | Servings: | Calories: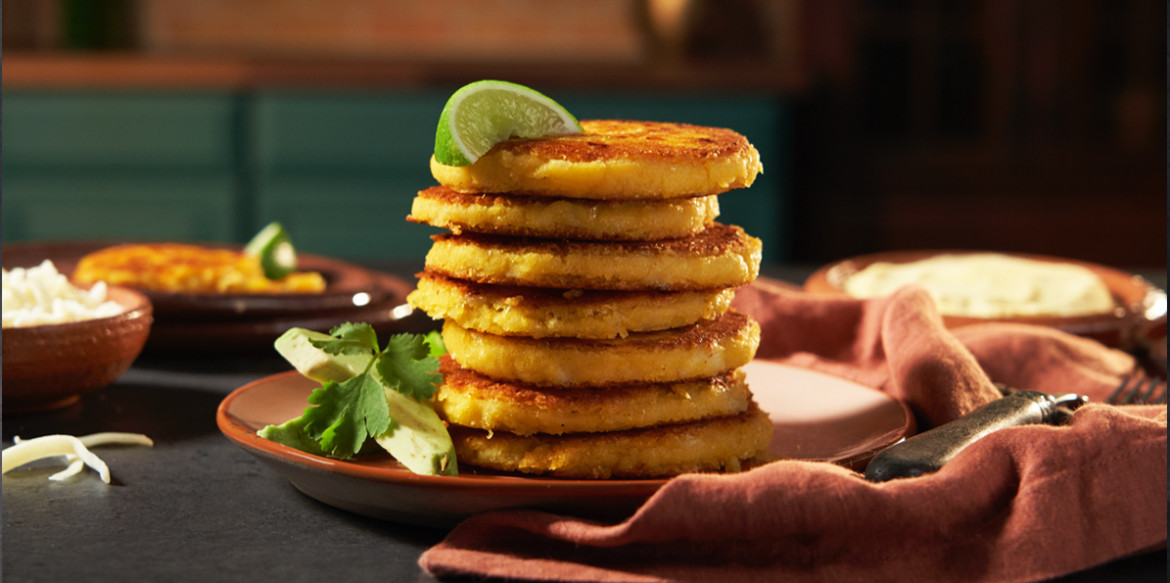 ---
Colombian sweet corn arepas are a traditional street food in the mountainous region of the Country. Adding a blend of Sargento® Mozzarella and Parmesan cheeses takes this breakfast recipe to a whole other level! Enjoy warm right off the griddle with a dab of butter and toped with a few slices of avocado.
Ingredients
1 cup of sweet yellow corn kernels
1 1/4 cup pre-cooked yellow cornmeal
1 cup shredded Sargento® Mozzarella cheese
2 tablespoons light brown sugar
1 teaspoon baking powder
1 teaspoon kosher salt
¾ cup whole milk
3 tablespoons butter, melted, plus more for serving
Sea salt for serving (optional)
2 avocados sliced (optional)
Non- stick cooking spray
Directions
Grind corn in a blender or food processor until kernels break apart and the mixture is smooth.
Transfer ground corn to a large bowl and add cornmeal, cheeses, sugar, baking powder and salt. Using a wooden spoon stir ingredients together to incorporate.
Pour in milk and butter and continue to stir until ingredients come together. In the beginning your mixture will look like a very loose pancake batter. Don't stress, the cornmeal will take a few minutes to absorb the liquid and have better consistency. Allow the dough to rest in the refrigerator for 15 to 20 minutes.
Preheat a large cast iron skillet or a large non stick skillet over medium high heat. Coat with cooking spray. Measure 1/2 cup of batter and place into the hot pan--pancake style with a bit more body-- you can make a couple arepas or a few at a time depending on the size of your skillet. Do not over crowd. Cook until golden, 2 to 3 minutes per side. Transfer to a baking sheet and keep warm under aluminum foil. Repeat with the remaining batter.
To serve, plate each arepa, top with a dab of butter and a touch of sea salt.
Note: The batter's consistency may vary. It can be formed into patties if it is not easily poured.
---