Spicy Roasted Poblano Soup with Cheddar Cheese
Prep Time: 20 MIN | Cook Time: 25 MIN | Servings: | Calories: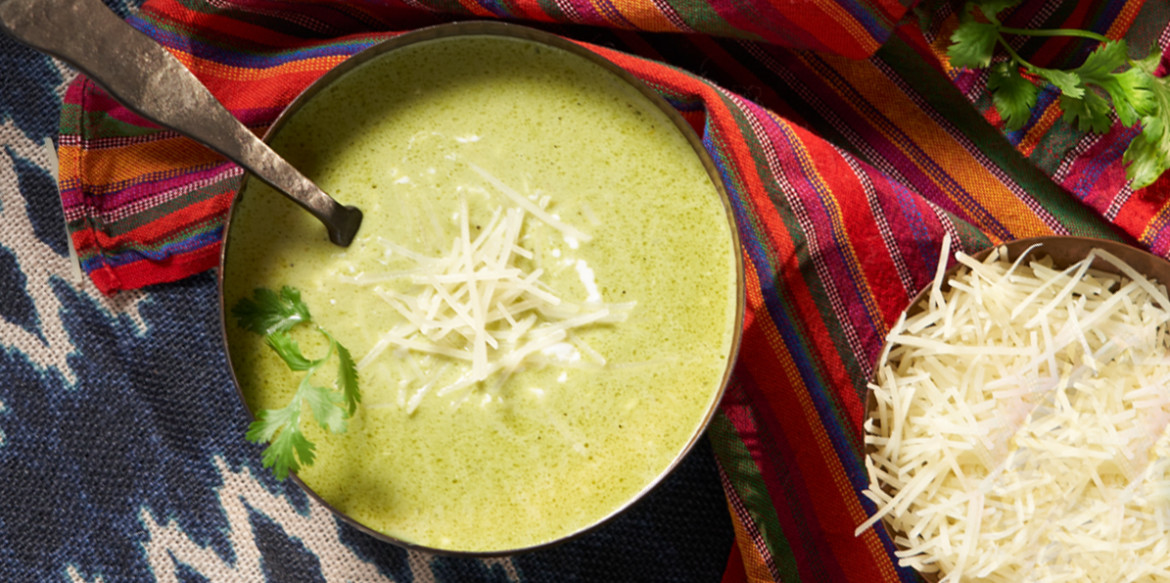 ---
This rich and creamy roasted poblano chili pepper soup is decadent and delicious. Made with Sargento® Shredded Mild Cheddar to level up the creaminess and topped off with Sargento® Shredded Parmesan Natural Cheese for maximum flavor.
Ingredients
5 poblano chili peppers
2 ½ cups water, divided
1 tablespoon chicken or vegetable bouillon
¼ cup unsalted butter
1/3 cup white onion, finely chopped
1 cup canned yellow corn, drained
1 tablespoon all-purpose flour
1 (12 ounce) can evaporated milk
1/8 teaspoon (1 pinch) white pepper
1/8 teaspoon (1 pinch) ground nutmeg
½ teaspoon salt
¾ cup Mexican crema or crème fraiche, divided
Cilantro leaves for garnish
Directions
Rinse poblano chilis and wipe dry with a paper towel. Turn on gas burner to high. Using metal tongs, place chili peppers over flame and turn, roasting evenly on all sides until skin is blistered and charred. Transfer to plastic bag and seal to steam.
Carefully open bag and scrape off charred chili skin of each poblano chili with the back of a knife.  Slice open and remove seeds and stems. Chop ½ of a chili into strips for garnish; set aside. Roughly chop remaining chilies and place them in a blender. Add 1 ¼ cups water and bullion. Blend until smooth. Set aside.
Melt butter in a large saucepan over medium heat. Add onion and stir, cook for 1 minute or until fragrant. Add corn, cook for 1 minute; stirring frequently. Add flour and whisk until flour dissolves; about 30 seconds. Add blended poblano chili mixture and remaining 1 ¼ cup water. Stir in evaporated milk, pepper and nutmeg. Bring to a boil, add salt and continue boiling for 10 minutes; stirring frequently.
Turn heat off. Stir in cheddar and ½ cup crema. Ladle soup into bowls; top with a drizzle of remaining crema, ½ tablespoon parmesan, a few poblano chili strips and cilantro leaves. Serve.
---