Mexican Street Corn Salad
Prep Time: 15 min | Cook Time: 15 min | Servings: 4 | Calories: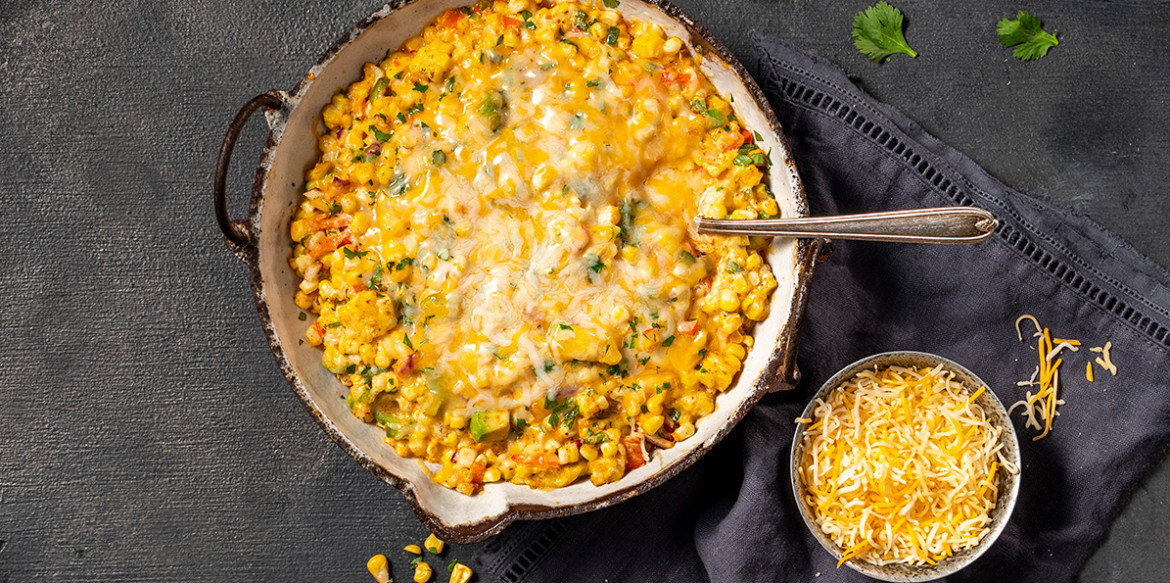 ---
Mexican street corn received a face lift with this refreshing summer salad. Sweet corn is brushed with a chipotle chili butter, then grilled, cut off the cob and tossed with Sargento® Shrerdded 4 Cheese Mexican, mayo, lime juice, cilantro, and seasoned salt mixture, then topped with a diced avocado, bell pepper and onion.
Ingredients
4 ears sweet corn, husks removed
2 tbsp butter, melted
1 tsp chipotle chili powder
1/2 cup mayonnaise
1 tbsp fresh lime juice
1 tbsp cilantro, finely chopped
1/2 tsp seasoned salt
1 whole avocado, pitted and diced
1/4 cup red bell pepper, diced
1/4 cup red onion, diced
1 ea. jalapeño pepper, seeded, diced
1/2 tsp kosher salt
1 ea. Lime wedge, optional
Directions
Pre-heat grill
Brush ears of corn with melted butter. Sprinkle each with chili powder. Transfer to a plate.
Grill corn over medium heat for 10-15 minutes or until lightly charred, rotating corn as it cooks. Remove from grill and set aside to cool.
In a medium bowl, combine mayonnaise, lime juice, cilantro and seasoned salt. Stir in cheese.
Cut corn off of cob with a sharp knife and transfer to bowl with mayo and cheese mixture. Stir to combine.
In another medium bowl, combine remaining ingredients except lime wedge.
Spoon grilled corn salad into a bowl or serving dish and top with avocado mixture.
Squeeze wedge of lime over salad and serve.
OPTIONAL: Salad can be warmed in the oven until the cheese has melted, and served with the cold avocado mixture spooned on top.
---