Cheesy Potato and Chorizo Gratin
Prep Time: 20 Min | Cook Time: 1 Hr | Servings: | Calories: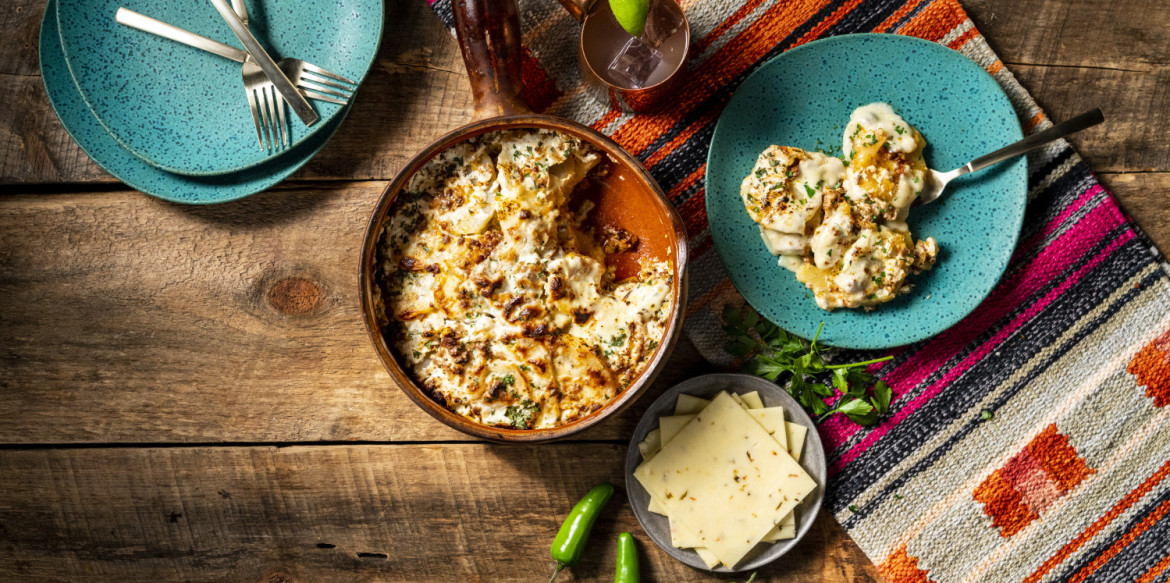 ---
This delicious potato dish layers chorizo sausage, potato slices and spicy Sargento® Pepper Jack Slices.
Ingredients
2 lb russet potatoes
10 cups water
2 Tbsp salt
2 Tbsp butter softened
½ pound Mexican chorizo (sausage)
1 Tbsp vegetable oil
1 cup onion sliced
1 clove garlic minced
¾ cup sour cream
¾ cup whole milk
2 Tbsp parsley chopped
Directions
For the blanched potatoes: Place potatoes in a pot with water and salt, boil for 15 minutes. Remove from heat and leave to cool. Peel potatoes and cut into 1/8-inch slices.
For the potato and chorizo gratin: Preheat oven to 350 °F. Remove casings from chorizo, and finely chop. Heat oil in skillet and fry chorizo on medium heat until beginning to brown, add onion, garlic, and sauté until translucent (reserve ½ cup). Butter a 9 x 9-inch baking dish. Spread a first layer of potato slices to cover the bottom of the baking dish completely, season with salt and pepper taste, lay 3 slices of cheese, and a third of the chorizo mixture over the potatoes, repeat potato, salt and pepper, cheese, and chorizo layering twice more, add 1 extra slice of cheese on the last layer (4 slices). Mix sour cream and milk, season with salt and pepper to taste, mix until well combined. Pour cream and milk mixture over the potatoes and sprinkle with parsley. Cover with aluminum foil and bake for 50 minutes until potatoes are soft. Remove foil and bake for additional 10 – 12 minutes until cheese is nicely browned.
---