Cheese Empanadas
Prep Time: 1 HR | Cook Time: 30 MIN | Servings: | Calories: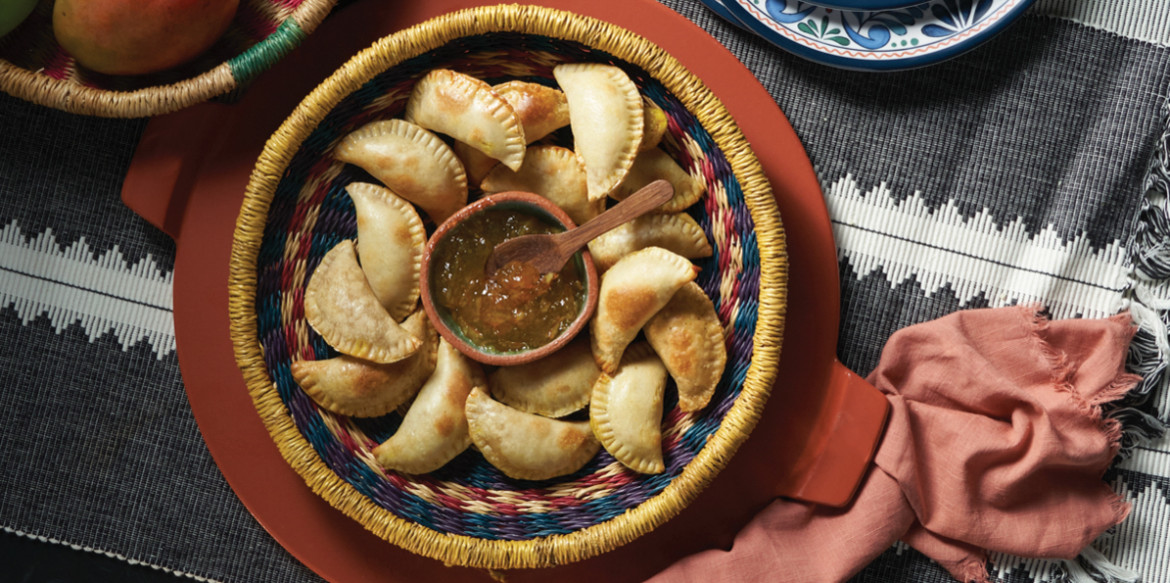 ---
Empanadas are a unifying thread through the cuisines of the world… not only, will you find empanadas all along Central and South America, but recipes and preparations of ingredients encased in dough pop up just about everywhere: dumplings, pirogies, panzerottis, gyozas etc. These cheese empanadas are baked and prepared with an oozing savory cheese filling made with a blend of Sargento® Shredded Sharp Cheddar and Sargento® ShreddedMozzarella. These empanadas are the ideal afternoon snack or cocktail party appetizer.
Ingredients
2 1/4 cups Sargento® Reserve Series ™ Shredded Aged Italian Blend
1 teaspoon ground turmeric
1 teaspoon ground ancho Chile powder
1 teaspoon onion powder
12 oz All Purpose flour plus more for dusting
4 oz fine corn flour
1 tsp salt
3 oz butter, melted
7 fl. oz greek yogurt, plain unsweetened
2-3 Tbsp warm milk (can use more depending on atmospheric humidity)
1 egg, beaten
Lime marmalade and/or your preferred hot sauce
Directions
To make the filling, combine cheese, turmeric, coriander and garlic salt in a medium bowl. Stir together with a wooden spoon until combined. Set aside.
To make empenada dough, in a large bowl, mix the all purpose flour, corn flour, and salt. Mix very well with a whisk. Add the melted butter and mix with a fork. Add the yogurt and mix again with a fork. At this point you will have flour that has not been incorporated to the wet ingredients. Add the milk 1 Tablespoon at a time, and using your hands, incorporate all ingredients until you can form a smooth ball.
Divide the dough into two pieces. Reserve the piece you will use later in a bowl covered with a moist heavy duty paper towel so it doesn't dry up.
On a floured surface, extend half of the dough with a rolling pin, pressing from the center out until it reaches a thickness of ⅛" - ¼". Using a round 3" diameter cookie cutter, press down on the dough making sure the cutter goes all the way through to the surface. Make sure you make the best use of the dough by cutting out the discs very close to one another.  Place the discs on a baking sheet lined with parchment paper and cover with a moist paper towel.
Form a ball with the leftover pieces of dough and extend again with a rolling pin and repeat the same steps for cutting out the dough. (NOTE: The second time you extend the dough, you will notice that it is more rubbery and a little harder to work with. Also, when you cut it out, you will notice the discs will spring back a bit and will be a bit smaller than the first round.)
Place the dough discs on the lined baking sheet, cover with the moist paper towel, and get the second piece of dough that you reserved in the bowl and repeat the steps. You should have 30-32 discs.
Place 1 to 1 ½ teaspoons of the filling on the middle of each empanada disc. Brush beaten egg around the edge of each disk, fold in half as a half moon. Press to seal using a fork to secure the edges. Place back on the prepared sheet pan and keep the already filled empanadas in the freezer as you work. Freeze empanadas for at least 30 minutes before baking—this helps keep the shape intact and prevents filling from oozing out.
To Bake: Preheat oven to 425F.

Line two baking sheets with parchment paper, place frozen empanadas about 1/2" apart. Bake for 18 to 20 minutes or until golden.
Serve with lime marmalade or your favorite hot sauce on the side.
---