Italian Beef Burger
Prep Time: 10 Min | Cook Time: 30 Min | Servings: 4 | Calories: 680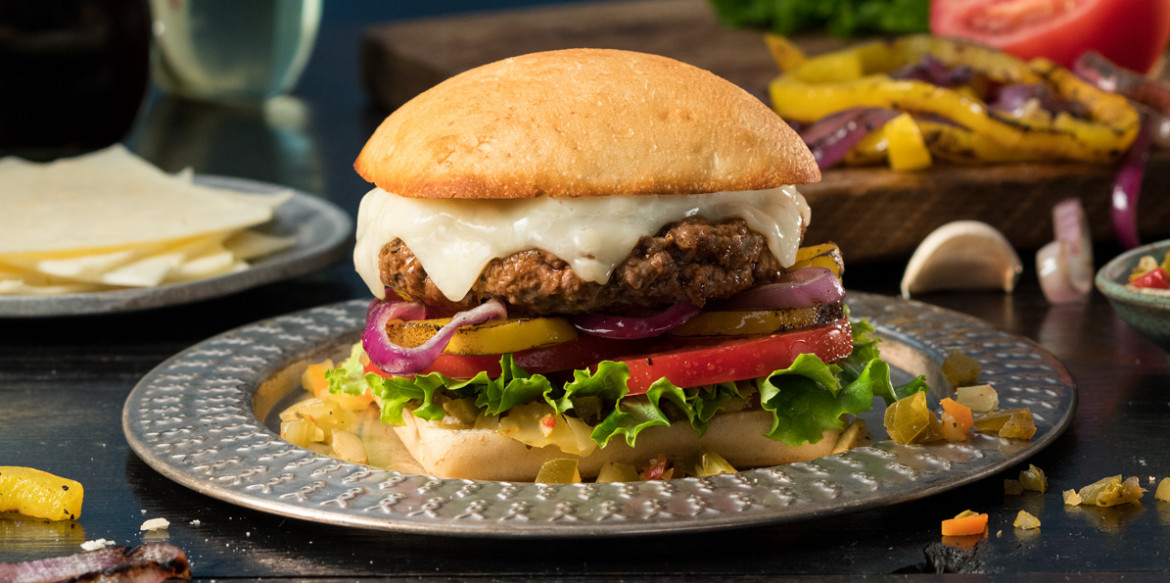 ---
From Italian seasoning in the beef to giardiniera pepper mix and Sargento® Mozzarella and Ciabatta buns, these burgers are filled with tantalizing Italian-inspired flavor. Grilled yellow pepper and red onion, crisp lettuce and ripe tomatoes complete this masterpiece of a burger.
Ingredients
1-1/2 lbs. Lean ground beef
2 tsp. Italian seasoning
2 tsp. Minced garlic
1/2 tsp. Kosher salt
1/2 tsp. Course ground black pepper
1 ea. Yellow pepper, cut into rings
1 medium Red onion, sliced
4 leaves Green leaf lettuce, washed
8 slices Tomato
8 slices Sargento® Mozzarella
1/2 cup Giardiniera pepper mix, drained and chopped
4 ea. Ciabatta buns, split and toasted
Directions
In a large bowl, combine ground beef, and next 4 ingredients. Mix with hands until well blended. Form mixture into 4 even patties about 6 oz. each. Cover and set aside for 30 minutes.
Grill peppers and onions over direct heat for 5-7 minutes or until charred and crisp tender. Set aside.
Grill burgers for 4-5 minutes per side or until cooked to desired doneness.
Place 2 cheese slices on each burger the last minute of cooking. Remove burgers from grill and let rest for 5-10 minutes.
BURGER ASSEMBLY: Spoon 2 tablespoons of giardiniera pepper mix onto bottom buns. Top lettuce with tomato slices, grilled peppers and onions. Place cheese burgers over onions. Place bun top and serve.
---