Grilled Avocado & Salmon Salad Recipe
Prep Time: | Cook Time: | Servings: 4 | Calories: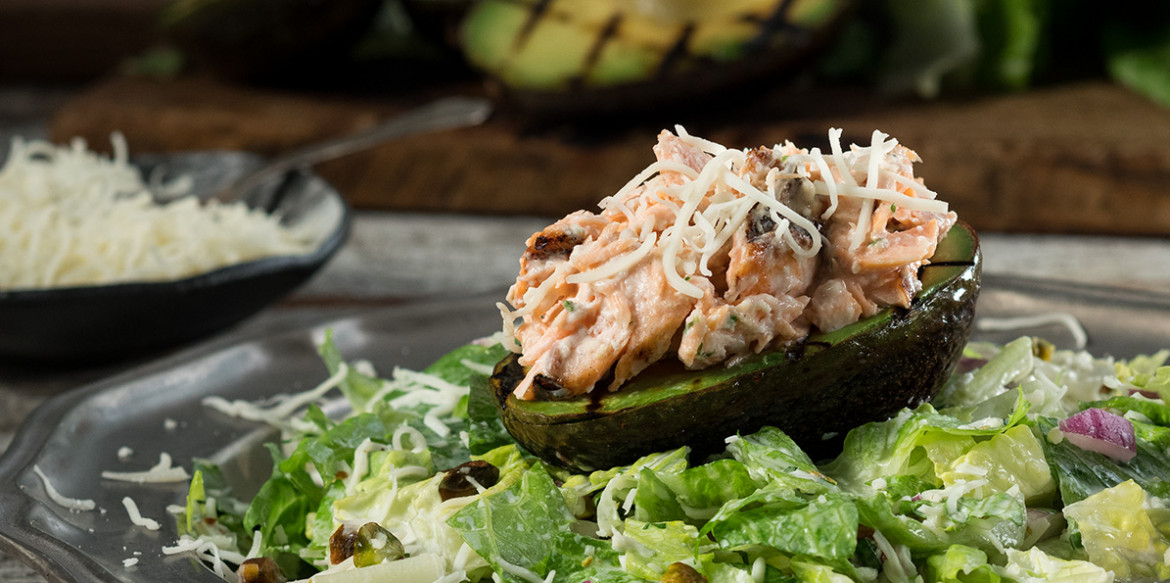 ---
This elegant salad recipe features grilled, flaked salmon served in lightly grilled avocados on a chopped salad. Pistachios, red onion, a homemade lime herb dressing and Sargento® 6 Cheese Italian round out the lovely flavors of this salad.
Ingredients
1/2 cup Mayonnaise
1 tbsp Fresh lime juice
1 tbsp Honey
1/2 tsp Kosher salt
2 tbsp Chopped fresh herbs(chives, parsley, cilantro, or basil)
8 oz Fresh salmon fillet
1/2 cup Red onion, diced
1/4 cup Pistachios, roasted and salted
4 cups lettuce, washed & chopped
1 cup Sargento® Shredded Six Cheese Italian
2 large Avocados, cut in half, pit removed
1 tsp Kosher salt
Directions
For Lime Herb Dressing: In a small bowl, combine mayonnaise, lime juice, honey, kosher salt and herbs. Stir until smooth. Set aside.
Spray salmon with non-stick spray. Grill salmon on a hot grill over direct heat for 4-5 minutes on each side or until salmon flakes with a fork. Remove from grill and cool completely. Remove skin if needed and flake fish into a small bowl. Spoon 2 tablespoons of prepared dressing over salmon and fold mixture until salmon is coated. Set aside.
FOR CHOPPED SALAD: In a medium bowl, combine remaining dressing, onion, pistachios, lettuce and shredded cheese. Set aside.
For avocados, spray cut sides of avocados with non-stick spray. Grill over medium heat for 1-2 minutes. Remove from grill.
To Assemble: Spoon salad mix onto plates. Spoon flaked salmon mix into grilled avocados and place avocado halves over chopped salad mix. Serve.
---