Green Goddess Chicken Pita Recipe
Prep Time: 30 min | Cook Time: 20 min | Servings: 4 | Calories: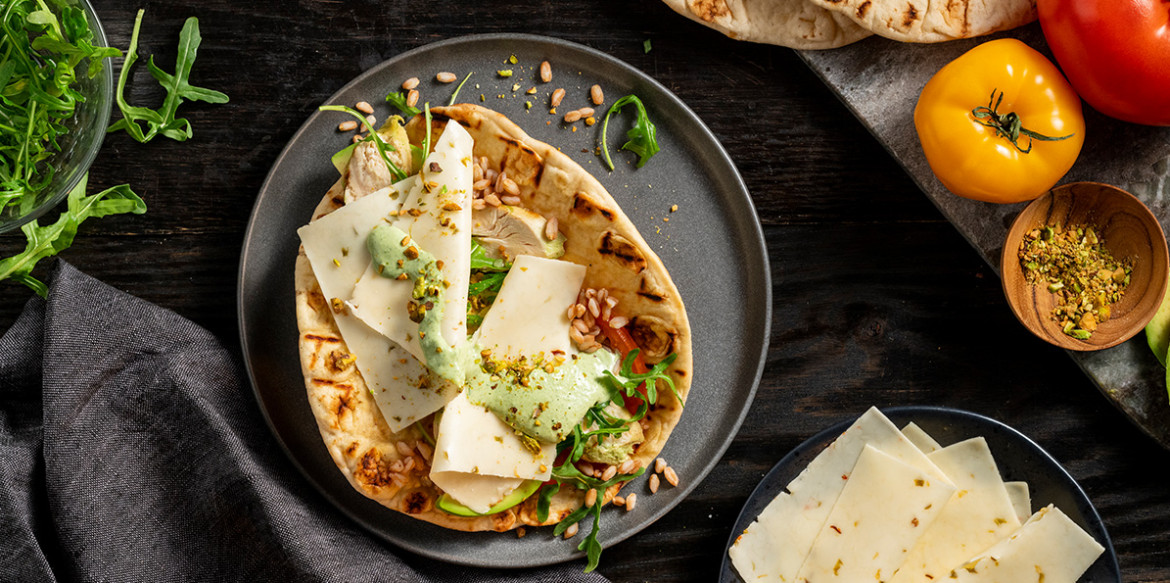 ---
Boneless, skinless chicken is marinated in green goddess dressing, then grilled and served on flatbread pita with cooked farro, sliced tomato, avocado, Sargento® Ultra-Thin® Sliced Pepper-Jack Cheese and chopped pistachios.
Ingredients
½ cup Light mayonnaise
4 tsp. Roasted & salted pistachios, chopped
1 cup Baby spinach leaves, washed
8 slices Fresh avocado
8 slices Tomato, thinly sliced
8 slices Sargento® Ultra Thin® Pepper Jack Cheese
2 ea. Boneless, skinless chicken breasts (8 ozs. each)
4 ea. Pita flatbread rounds, grilled
1 clove Garlic, peeled
1 tsp. Vinegar
1 Tbsp. Fresh lemon juice
¼ cup Fresh tarragon, chopped
2 Tbsp. Fresh parsley, chopped
2 Tbsp. Fresh chives, chopped
¼ cup Light sour cream
4 Tbsp. Green goddess dressing, prepared from above
Directions
In a small blender, combine mayo and next 7 ingredients. Purée until smooth. Pour ½ cup of the prepared dressing into a re-sealable plastic bag. Add chicken breasts, then seal bag, removing as much air as possible. Refrigerate for 3-4 hours.
Remove chicken from bag, discard bag and excess dressing. Grill chicken for 5-6 minutes over medium heat. Flip chicken and grill until juices run clear or until cooked to 165 degrees. Let rest for 10 minutes. Cut into slices.
To assemble: Place ¼ cup fresh spinach on each pita. Top each with 2 slices of tomato, 3-4 slices of chicken, 2 slices of avocado, 2 slices of cheese, 1 oz. of dressing and 2 tsp. chopped pistachios. Serve.
---