Bouquet
Prep Time: 60 MIN | Cook Time: 0 MIN | Servings: | Calories: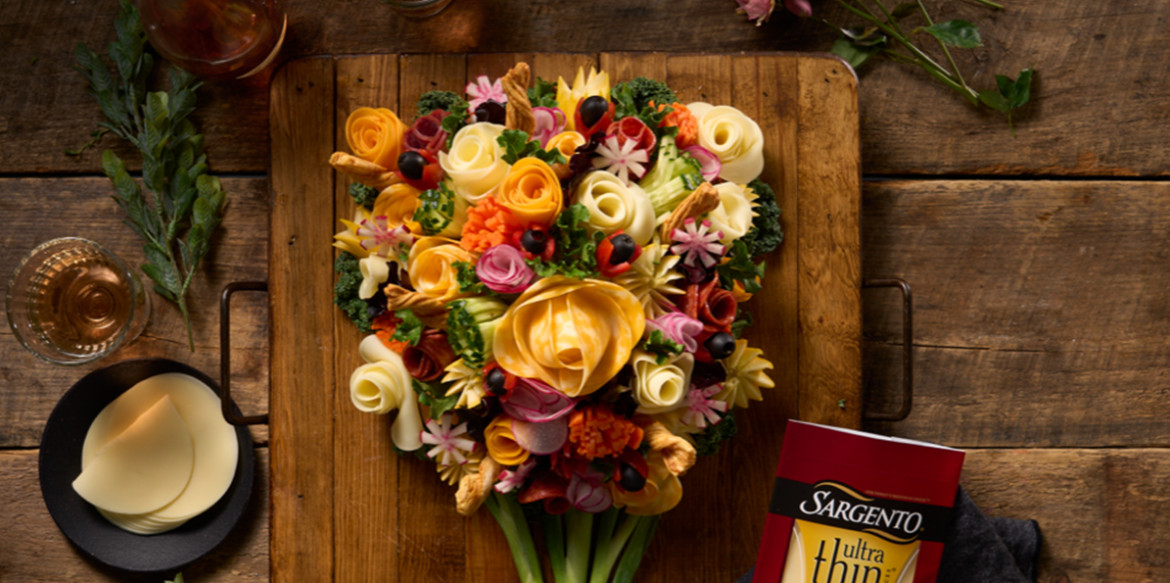 ---
Ingredients
20 slices salami or pepperoni
3 green onions
2 summer squash, cut into flower shapes
1 English cucumber, cut into flower shapes
8 grape tomatoes, cut into flower shapes
8 radishes, cut into flower shapes
2 lg. carrots, peeled
8 black olives
6 breadsticks, optional
4 green kale leaves, washed, torn into pieces
2 lbs. cream cheese, softened
Directions
To make provolone roses, on a clean, flat surface, lay 4 slices of cheese overlapping each other by 1". Fold the row of slices in half, making one edge a straight line where all 4 slices are folded.
Starting at one end, slowly rollup the cheese, creating a tight flower like shape. Fold down every other edge to make the flower look opened. Secure the bottom with a toothpick. Place bottom side down on a large tray lined with foil and refrigerate while doing the other remaining flowers. Repeat this process with remaining cheese slices.
To make colby-jack and sharp cheddar roses, cut slices with circular cookie cutter and repeat process above.
For salami and pepperoni roses, repeat the process above. Refrigerate all flowers until ready to assemble.
To make summer squash flowers: Cut each summer squash into 2-3-inch-thick slices. Using a small knife, make a crisscross pattern in the center of each squash slice until each separate into two pieces. Repeat with slices.
To make carrot stick flowers: Cut 2-3inch thick pieces. Using a sharp paring knife, make thin parallel slices ¾ through the carrot about ¼-thick. Rotate carrot piece 90 degrees and repeat parallel slices ¾ through. Place carrot flower in a bowl of ice water. Repeat with remaining carrot pieces.
To make cucumber flowers: Cut ¼-inch thick slices lengthwise from the cucumber. Make ¼-inch cuts crosswise ¾ of the way through the cucumber. The slices will look like a comb. Rollup the slice and secure with a toothpick at the base. Repeat process with remaining cucumber slices.
To make grape tomato flowers, make small, thin crisscross cuts around the middle of a large grape tomato until it separates into two pieces. Place an olive in the center of each tomato flower and secure with toothpicks. Repeat with remaining tomatoes.
To assemble, make a mound of cream cheese on a large wooden board or tray where you want the top of the bouquet to be placed. The cheese base allows you to secure each flower and create a rounded look to the bouquet rather than being flat to the surface. Press the cheese and meat roses into the cream cheese and secure with toothpicks ,if necessary, on the edges to keep them from falling. Leave room in between the roses to allow room for the remaining items.
Add the cucumber, carrot, summer squash, tomato, and radish flowers, using picks to secure if needed. Add the kale and breadsticks between the roses to fill in the gaps.
Add green onions to bottom of the bouquet to look like stems of flowers. Feel free to add any other items to make your bouquet unique. Serve.
---