Shredded Brussels Sprout Casserole Recipe
Prep Time: 15 | Cook Time: 15 | Servings: | Calories: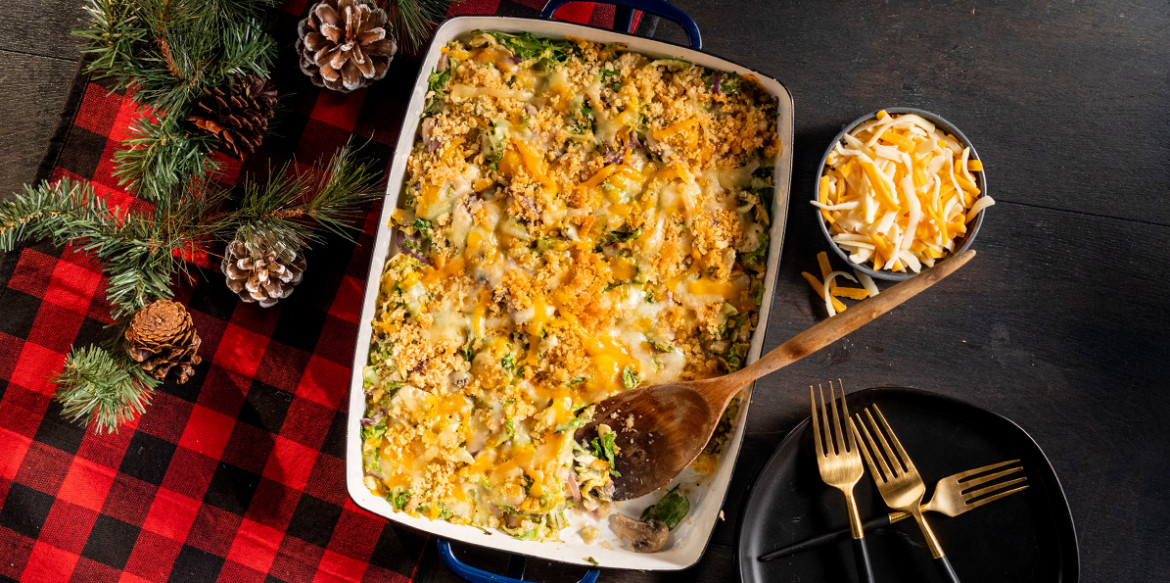 ---
Brussels sprouts are the perfect fall ingredient. They stay fresh a long time, they are versatile and they taste great with Reserve Series™ 18-Month Aged Cheddar. This version uses shredded brussels sprouts to speed up the cooking time. The buttery cracker crumbs on top add that old fashioned feel just like Grandma's house.
Ingredients
1 Tbsp. Olive oil
1 cup Red onion, cut into strips
8 ozs. Small button mushrooms, sliced
½ tsp. Kosher salt
¼ tsp. Pepper
10 cups Brussels sprouts, shredded
¼ cup Heavy cream
¼ cup Sour cream
¼ cup Mayonnaise
15 ea. Butter crackers, crushed
2 Tbsp. Butter, melted
Directions
Pre-heat oven to 375 degrees. In a large skillet or dutch oven, heat oil over medium low heat. Add onion, mushrooms, salt and pepper. Cook for 4-5 minutes or until onions and mushrooms are softened.
Add brussels sprouts and continue to cook 2-3 minutes or until brussels sprouts are slightly softened.
Fold in heavy cream, sour cream, and mayonnaise until well blended.
Fold in half of cheese. Spoon mixture into a greased casserole dish. Sprinkle remaining cheese on top.
Combine crushed crackers and melted butter. Sprinkle mixture over cheese.
Bake uncovered for 7-10 minutes or until crumbs are golden brown and cheese is melted. Serve.
---