Nashville Hot Chicken Sandwich
Prep Time: 15 Min | Cook Time: 30 Min | Servings: 4 | Calories: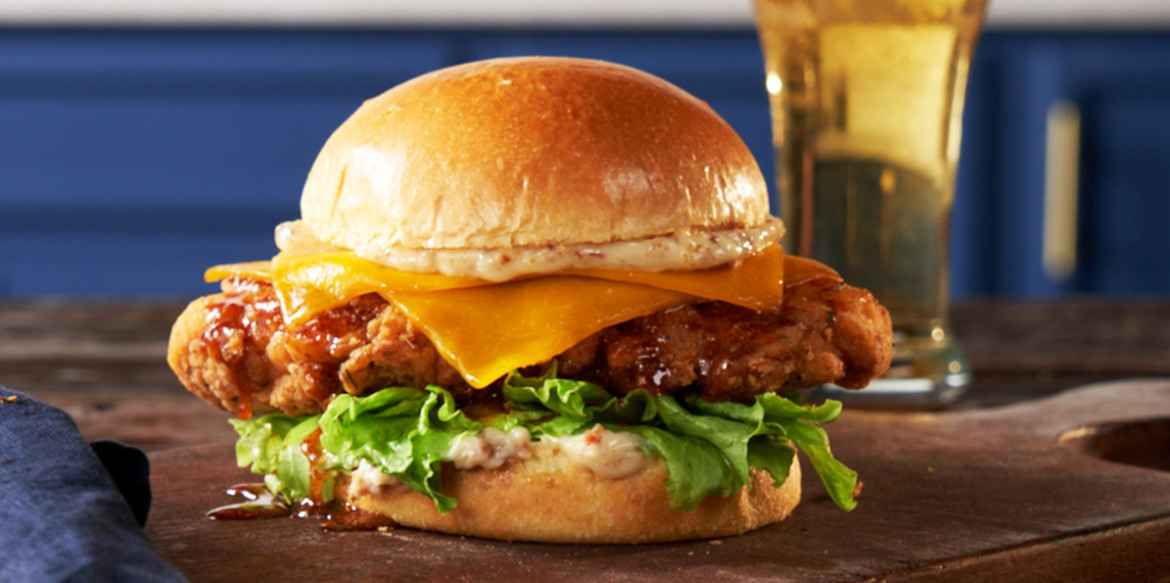 ---
Try this new take of a Nashville hot chicken sandwich. A crispy honey glazed chicken breast is topped with Sargento® Medium Cheddar Cheese and a homemade bacon mayo and piled high on a brioche bun.
Ingredients
2 lg. (8-12oz.) Boneless, skinless chicken breasts, cut in half crosswise, pounded ½" thick
2 qts. vegetable oil for frying
BACON MAYO:
1/2 cup Mayonnaise
4 strips Bacon, cooked, crumbled
TOPPINGS:
4 ea. Brioche buns
4 leaves Iceburg lettuce
12 slices Dill pickles
MARINADE:
1 cup Buttermilk
1 lg. egg beaten
1 Tbsp. Hot sauce
COATING MIX:
1 cup Flour
1 Tbsp. Cajun seasoning
HOT HONEY GLAZE:
1/2 cup Vegetable oil
2 Tbsp. Cayenne pepper
1 Tbsp. Honey
Directions
Combine all ingredients for marinade in a shallow dish or pie plate. Reserve 1/2 cup of mixture for later, then add chicken to remaining marinade. Cover and refrigerate marinated chicken for at least 2 hours or up to 8 hours, then remove chicken from marinade, discarding marinade and transfer to a plate.
Combine, coating ingredients in a shallow dish or pie plate. Transfer ¼ cup of the coating mix with the ½ cup of reserved marinade to another shallow dish or pie plate.  Set aside. Transfer remaining coating mix to a third shallow dish and set aside.
Make bacon mayo by combining mayonnaise and crumbled bacon in a small bowl.  Refrigerate until ready to assemble.
Pre-heat oil in a deep fryer or large, heavy bottomed dutch oven to 350 degrees. If using a dutch oven, do not fill more than one third full of oil.
To bread chicken, dip one chicken breast half into the coating mix, shaking off excess, then coat with marinade/flour mixture. Transfer back to the coating mixture and coat completely. Transfer breaded chicken to a plate lined with foil. Repeat process with remaining chicken. Set chicken aside until oil is hot.
For Hot Honey Glaze: Combine all ingredients in a small bowl. Set aside until chicken is done frying.
To Fry Chicken: Using a pair of metal tongs, carefully lower one piece of breaded chicken at a time into hot oil. Fry for 5-6 minutes or until chicken is cooked through and juices run clear. Transfer to a plate lined with paper towels.
Brush hot honey mixture over entire fried chicken breast.
To Assemble Sandwiches: Spread 1 tablespoon of bacon mayo on each bun bottom and bun top. Place 1 lettuce leaf on bun bottom. Place 1 slice of cheese over lettuce. Place a fried chicken half over cheese. Place another cheese slice over chicken. Top with 3 slices of pickle and bun tops. Serve.
---