Jambalaya Risotto
Prep Time: | Cook Time: | Servings: 6 | Calories: 660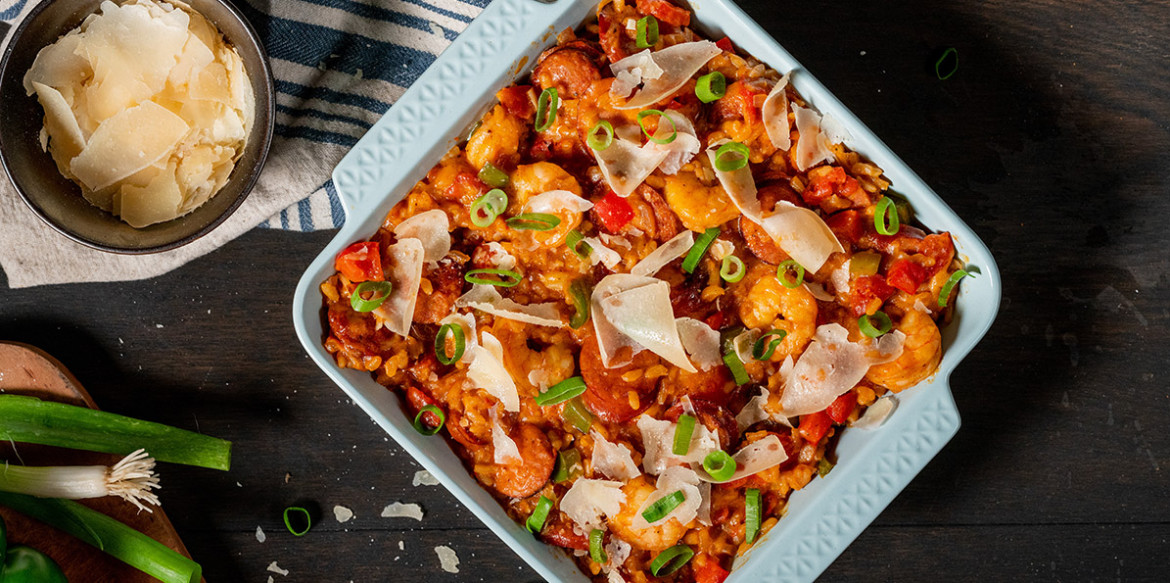 ---
This recipe stands alone as a lovely main dish, but can also be enjoyed as a side dish to a meat, chicken or fish entrée. Two Sargento® Reserve Series™ cheeses—18-Month Aged Cheddar and 14-Month Aged Parmesan bring a unique depth of flavor to this festive, Cajun-inspired risotto.
Ingredients
1 cup Arborio rice
2 Tbsp Olive oil
4 cups Chicken broth
1/2 cup Sherry wine
6 oz Andouille sausage, sliced
1/2 cup Sweet red onion, diced
6 oz Shrimp
1/4 cup Celery, diced
1/2 cup Red bell pepper, diced
2 Cloves fresh garlic, minced
1 cup Canned tomatoes
1/2 Tbsp Seafood seasoning
4-6 dashes Hot sauce
1/4 cup Heavy whipping cream
1/4 cup Green onion
2 Sprigs fresh rosemary
Directions
Add 4 cups of chicken broth to a small pot on low heat and keep warm.
Cut the andouille sausage into slices and sauté over medium high heat until browned using 1 tablespoon of butter.
Add the shrimp and old bay seasoning to sausage and cook until pink. Add in the red onion, bell peppers & garlic and sauté for an additional 2 minutes. Remove from heat and set aside.
Heat 1 tablespoon of butter in the same saucepan over medium heat. Add the rice and cook for 2-3 minutes, stirring constantly, until middle of rice kernels begin to turn white.
Add in the sherry wine and cook until almost all the liquid is absorbed. Add the whole can of tomatoes with juices and cook until most of the liquid is gone.
Add 1 cup of broth & hot sauce and stir to combine. Cook until all liquid is absorbed. Continue adding broth, 1 cup at a time.
Add shrimp, sausage and pepper mix back to the pan. Turn stove to medium heat and stir in the cream and mix well. Cook until absorbed.
Turn the stove off and stir in the Sargento® Reserve Series™ 14-Month Aged Parmesan Cheese. Serve right away.
Serve on the side of your favorite protein or eat as a standalone dish. Top with green onions and sprinkle a little more Sargento® Reserve Series™ 14-Month Aged Parmesan Cheese over the top if desired.
---