Italian Mac and Cheese
Prep Time: 15 Min | Cook Time: 36 Min | Servings: 6 | Calories: 1250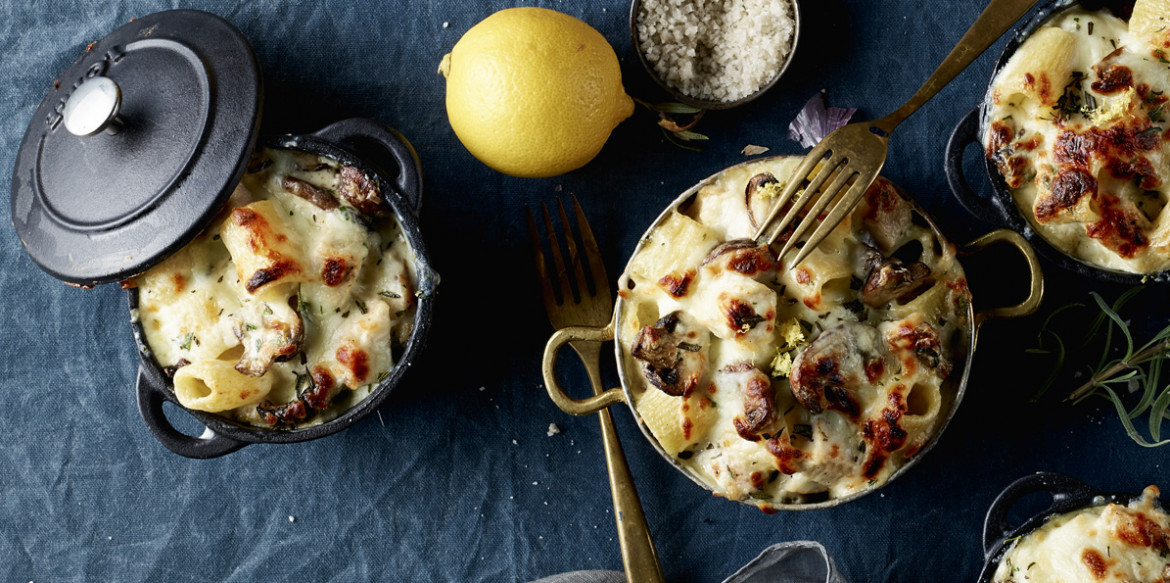 ---
Rich, creamy and cheesy, this Italian Mac and Cheese is full of chicken and mushrooms and, of course, cheese. The sauce calls for Sargento® Parmesan and Mozzarella, which is also melted on top. Bake this recipe in individual baking dishes.
Ingredients
1 1lb box of Rigatoni pasta
3 cups 1/2-inch diced Rotisserie chicken
3cups sliced Mixed Mushrooms
4 tbsp olive oil
2 cloves garlic minced
1 tsp lemon zest
2 tbsp chopped parsley
2 cups Sargento® Shredded Mozzarella Cheese - Traditional cut divided in half
4 tbsp unsalted butter
4 tbsp all purpose flour
2 cups heavy cream
2 cups half and half
2 tbsp chopped rosemary
1 tbsp Dijon Mustard
Pepper to taste
Salt to taste
Directions
Preheat oven to 400 degrees
Fill a large pot with salted water and bring to a rolling boil over high heat. Once the water is boiling, stir in rigatoni pasta, and return to a boil. Cook the pasta uncovered, stirring occasionally, until the pasta is cooked through but still slightly firm about 7 minutes. Drain and set aside.
In a large saucepan over medium heat melt the butter. When the butter starts to foam and bubble, stir in the flour and cook for 3-4 minutes. Then whisk in the heavy cream, half and half, rosemary, Dijon mustard season with salt and pepper reduce the heat to a simmer and cook for 8 minutes. Stir in half of the cheese and turn off heat.
Heat a large skillet with olive oil on medium heat. Add the chopped garlic and cook for 2 minutes then add in the mushrooms and cook for 5 minutes. Add the chicken, lemon zest, chopped parsley and cook for 4 minutes and turn off the heat. Add the pasta and mix with ingredients then add in the cream sauce then transfer to 6 individual baking dishes. Top the pasta with remaining cheese and bake for 20 minutes.
---