Gluten-Free Cheese Enchiladas Recipe
Prep Time: 20 min | Cook Time: 35 min | Servings: 6 | Calories: 447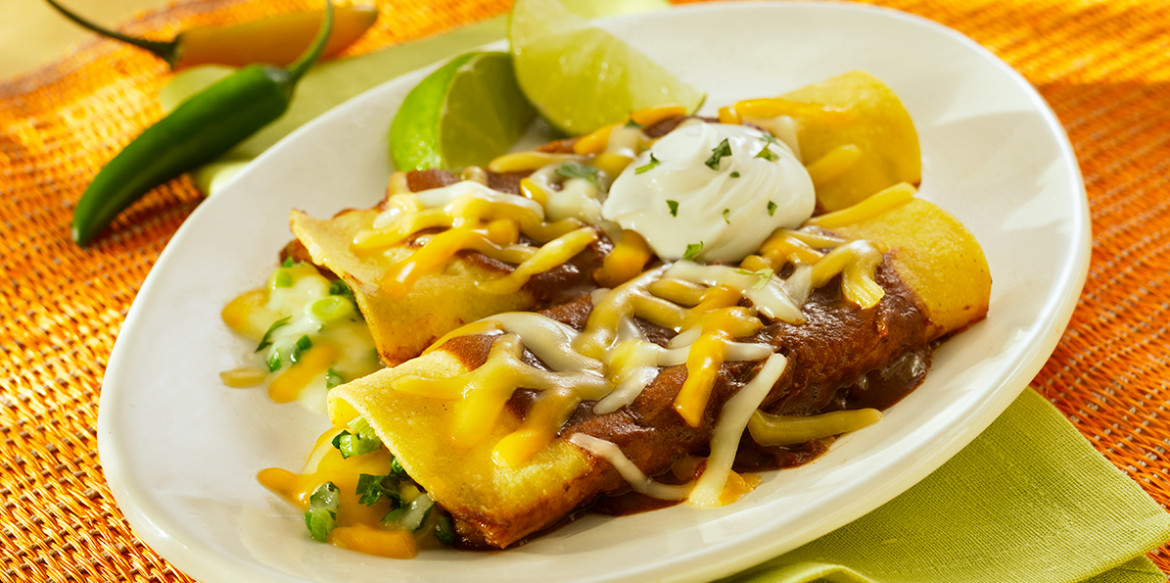 ---
You can still indulge in delicious Mexican cuisine even when you're cutting gluten out of your diet with the help of gluten-free tortillas and our delicious recipe for the cheesiest enchiladas around with the help of Sargento® Shredded 4 Cheese Mexican - Traditional Cut and some of your favorite adobo sauce.
Ingredients
2 cans (10 oz. each) enchilada sauce
3 to 4 Tbsp. bottled thick mole paste or adobo condiment*
4 cups (16 oz.) Sargento® Shredded 4 Cheese Mexican - Traditional Cut, Sargento® Shredded Taco Cheese or Sargento® Shredded Mild Cheddar Cheese - Traditional Cut
1 bunch green onions, thinly sliced
3/4 cup chopped fresh cilantro, divided
12 gluten-free corn tortillas
Sour cream
Directions
For mole sauce, whisk together enchilada sauce and 3 tablespoons mole paste until well blended. Taste and add additional 1 tablespoon mole sauce if a spicier sauce is desired.
For enchiladas, combine 3 cups cheese, green onions and 1/4 cup cilantro in medium bowl; mix well. Spread 1/2 cup mole sauce in bottom of a 13x9-inch glass baking dish. Warm tortillas according to package directions. Fill each tortilla with 1/3 cup cheese mixture; roll up and place seam-side down in baking dish. Cover enchiladas evenly with remaining mole sauce. Cover dish with foil.
Bake in preheated 350°F oven 30 minutes or until heated through. Uncover; top with remaining cheese and let stand 5 minutes. Garnish with sour cream and remaining cilantro.
*Found in the ethnic aisle of most supermarkets.
---