Chicken Zucchini Bake
Prep Time: 25 min | Cook Time: 35 min | Servings: 4 | Calories: 483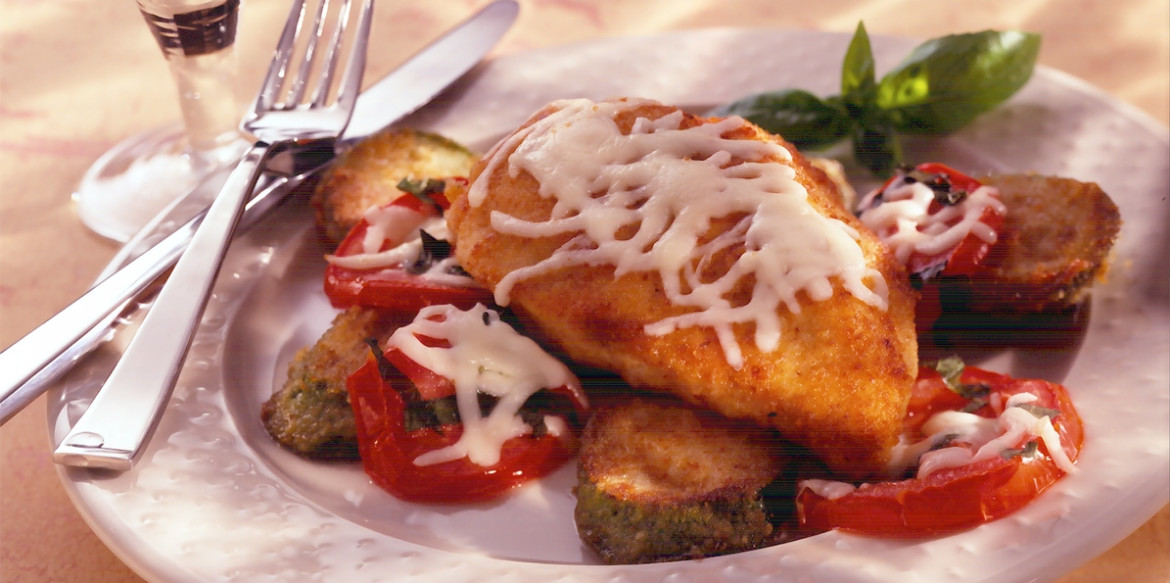 ---
When the inevitable zucchini bounty starts filling your countertop, here's a delicious way to use them up, along with the tomatoes and basil from your garden or farmers market. The chicken breasts are coated and fried, then layered with sautéed squash, tomatoes and basil and baked. Sargento® Mozzarella is melted on top to create a scrumptious summer dinner.
Ingredients
2/3 cup dry bread crumbs
1 egg
1 Tbsp. water
1/4 tsp. salt
1/4 tsp. pepper
2 zucchini squash, cut diagonally into 1/2-inch slices
1/4 cup olive oil, divided
4 boneless, skinless chicken breast halves
1 lb. tomatoes, cored and thinly sliced
2 Tbsp. thinly sliced basil leaves
1-1/4 cups (5 oz.) Sargento® Shredded Mozzarella - Fine Cut, divided
Directions
Place bread crumbs in shallow dish or pie plate. Beat together egg, water, salt and pepper in another shallow dish. Dip squash slices in egg mixture, then in bread crumbs, turning to coat.
Heat 1 tablespoon oil in large non-stick skillet over medium heat. Add half of squash and cook 2 minutes per side or until golden brown. Transfer to 13x9-inch baking dish coated with cooking spray. Repeat with 1 tablespoon oil and remaining squash; set aside.
Dip chicken in egg mixture, then in bread crumbs, turning to coat. Heat in remaining 2 tablespoons oil in same skillet; add chicken and cook 3 minutes per side or until golden brown.
Layer tomatoes and basil over squash in baking dish; top with 3/4 cup cheese. Arrange chicken over vegetables; cover with foil. Bake in preheated 375°F oven 20 minutes. Remove from oven; increase oven temperature to 400°F. Uncover; sprinkle with remaining cheese. Return to oven; bake 15 minutes more or until chicken is cooked through.
---