Chicken Fajita Quesadillas
Prep Time: 15 Min | Cook Time: 25 Min | Servings: 4 | Calories: 720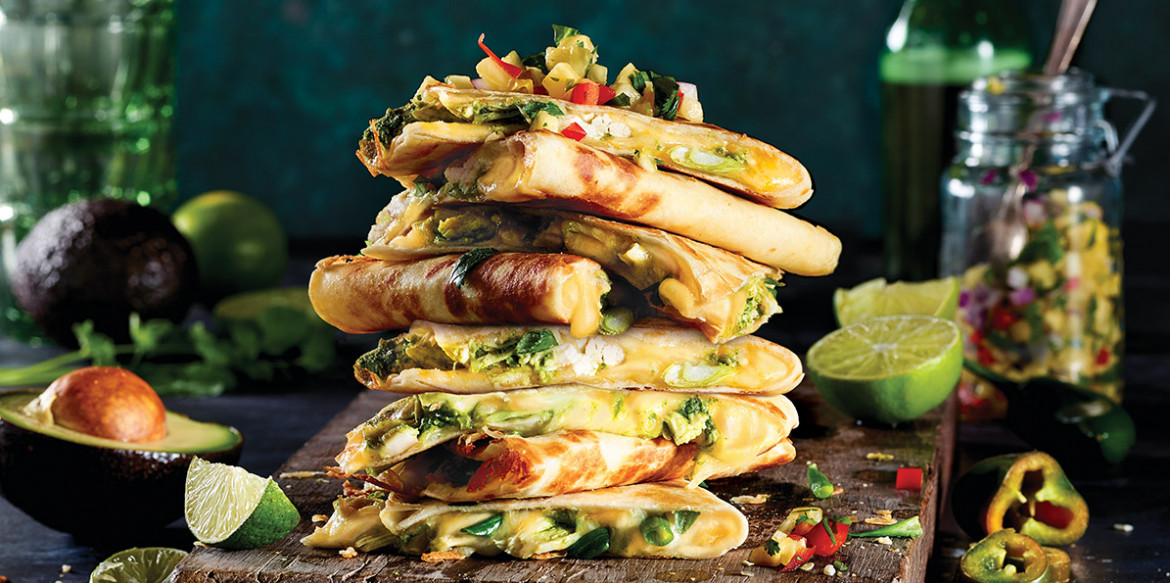 ---
<p>Zesty, crisp and cheesy, these quesadillas are everything. The cheese, Sargento® 4 Cheese Mexican, melts to a delicious gooeyness and pineapple salsa makes a delightful accompaniment. This is a recipe you just might consider doubling.</p>
Ingredients
2 cups cooked shredded chicken
1⁄2 bunch cilantro washed
1⁄2 bunch parsley washed
1 clove garlic
1 small jalapeno
2 tbsp lime juice
1⁄4 cup olive oil
Salt to taste
Pepper to taste
2 green onions thinly sliced
4 (9 in.) flour tortillas
PINEAPPLE SALSA:
2 cups diced pineapple
1⁄4 cup diced red onion
1⁄2 cup diced red bell pepper
1⁄2 cup chopped cilantro
2 tbsp lime juice
Salt to taste
Pepper to taste
Directions
In a blender add the cilantro, parsley, garlic, jalapeno, lime juice, 3 tablespoons olive oil, salt and pepper and blend until it becomes a puree.
Mix 1⁄2 of the green chili sauce with the shredded chicken and set aside. Reserve the other 1⁄2 for garnish.
In a medium mixing bowl add the pineapple, red onion, red bell pepper, cilantro, lime juice and season with salt and pepper. Set aside for garnish
Heat a large pan or griddle on medium heat with 2 teaspoon of olive oil. Add 1 tortilla and place 1⁄2 cup cheese on to the tortilla covering the whole surface. Then add 1/2cup shredded green chili chicken on half of the tortilla and sprinkle with green onions then fold in half. Cook on each side for 3 minutes or until golden brown. Set aside and keep warm and repeat the process 3 more times.
Cut each Quesadillas into 3rds and garnish with pineapple salsa and fresh lime and green chili sauce.
---