Slow Cooker Football Pizza
Prep Time: 10 Min | Cook Time: 4 Hours | Servings: 4 | Calories: 730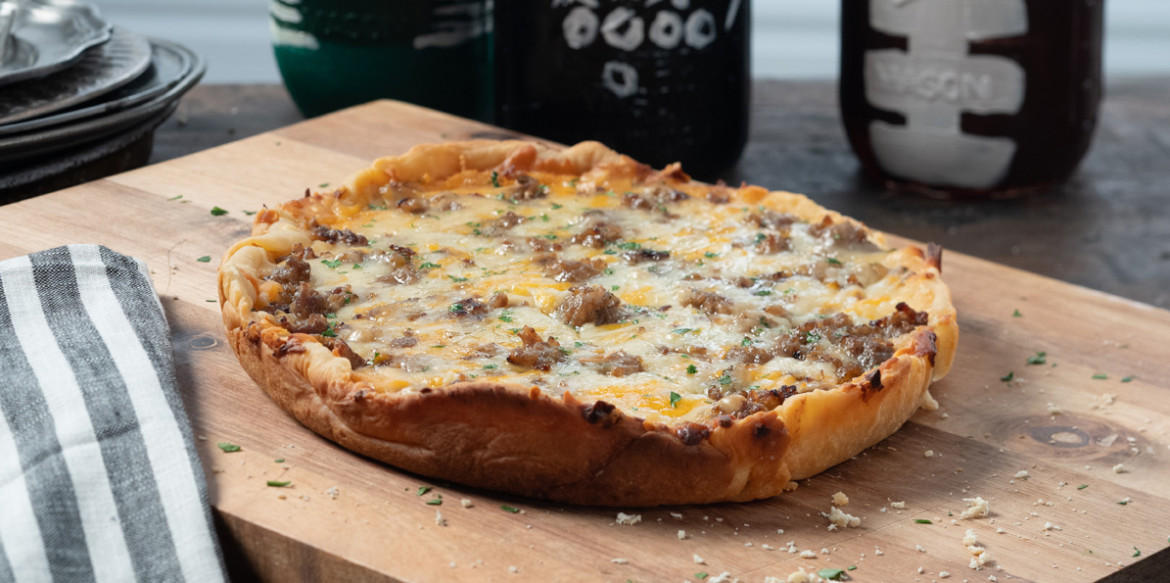 ---
<p>It's football season, which means oven space is at a premium with all those appetizers needed for the big game. Instead of taking up half the oven with a pizza, try making it in the slow cooker and top it with green onions to make it look like laces on a football. Your friends will be green and gold with envy.&nbsp;</p>
Ingredients
1 Tbsp. Butter, melted
1 tsp. Crushed garlic
1/2 tsp. Kosher salt
12 ozs. Pizza dough, prepared
8 ozs. Fresh Italian sausage, cooked and crumbled
4 ozs. Prepared pizza sauce
2 cups Sargento® Shredded Mozzarella Cheese - Traditional Cut
Directions
In a small bowl, combine butter, garlic and salt. Cut a piece of parchment paper to fit the bottom and up the sides of the slow cooker. Brush the parchment with the garlic butter.
Stretch pizza dough into an oval shape and press the dough into the bottom of the slow cooker.
Spread pizza sauce over pizza dough within 1/2" of the edge. Sprinkle mozzarella cheese over the sauce. Sprinkle cheddar over mozzarella. Top with cooked sausage. Cover slow cooker and turn slow cooker to high setting. Cook for 4 hours or until crust is golden brown and cheese is melted. Cut into pieces and serve.
---