Stuffed French Toast Casserole Recipe
Prep Time: 10 min | Cook Time: 45 min | Servings: 4 | Calories: 695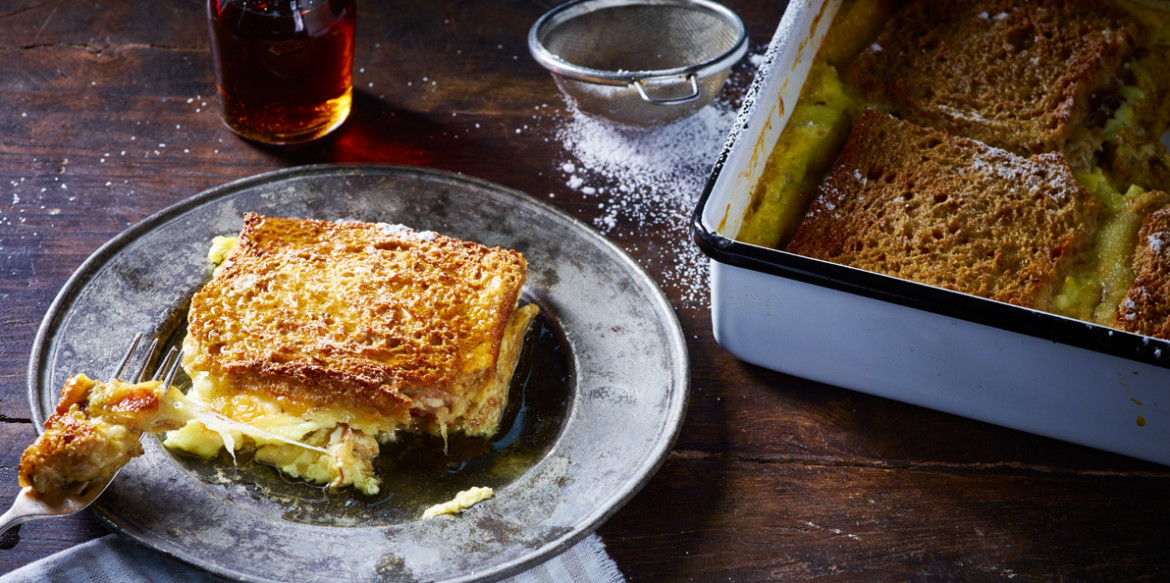 ---
Make the first meal of the day memorable with this decadent and delicious baked French toast recipe! Rye bread is stuffed with a smooth spreading of tangy honey mustard, melted Sargento® Sliced Provolone Cheese, and your choice of ham or smoked turkey breast. Just bake and serve hot.
Ingredients
1 Tbsp. butter, softened
8 slices rye bread
1 Tbsp. honey mustard
4 slices deli ham or smoked turkey
1/4 cup sugar
3 eggs
2-1/2 cups milk
1/2 tsp. salt
Confectioners sugar (optional)
3/4 cup maple syrup, heated
Directions
Coat 11x7-inch glass baking dish with butter. Place 4 slices bread in bottom of dish, cutting off crusts to fit, if necessary. Spread honey mustard over bread; top with 4 slices cheese, ham, remaining cheese and bread slices.
Beat sugar, eggs, milk and salt together in medium bowl. Pour mixture over "sandwiches." Let stand 10 minutes. Bake in preheated 375°F oven 45 minutes or until puffed and golden brown. Sprinkle with powdered sugar, if desired, and serve with syrup.
---