Southwest Sausage, Egg & Cheese Breakfast Burrito Recipe
Prep Time: 20 Min | Cook Time: 15 Min | Servings: | Calories: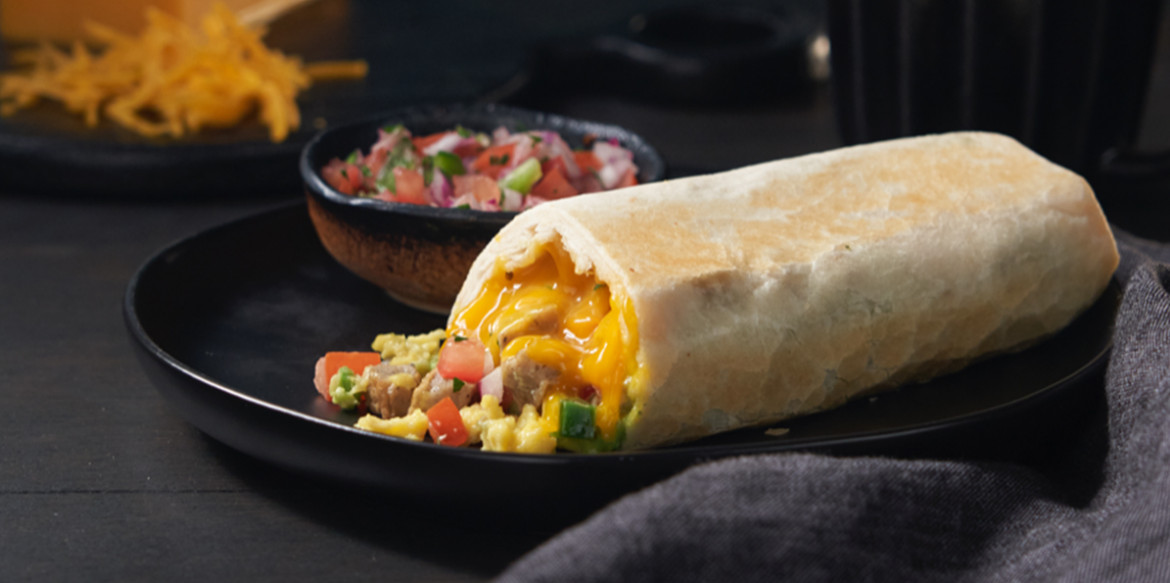 ---
This loaded breakfast burrito starts with a creamy layer of mashed avocado spread on a large flour tortilla. It gets topped with scrambled eggs, chopped breakfast sausage, pico de gallo and plenty of Sargento® Extra Sharp Cheddar Cheese.
Ingredients
4 lg. Flour tortillas, warmed
1 med. Avocado, mashed
1 tsp. Fresh lime juice
½ tsp. Salt
5 lg. Eggs, scrambled
1 cup Cooked breakfast sausage(patties or links), chopped
¾ cup Prepared pico de gallo, drained
Directions
Place one warm tortilla on a clean, flat surface. Spread about 3 tablespoons of mashed avocado into a rectangle shape on the lower third of the tortilla.
Spoon about ½ cup of scrambled egg over avocado.
Sprinkle sausage over egg.
Spoon pico de gallo over sausage.
Sprinkle cheese over pico. Starting with the bottom of the tortilla, fold the bottom up over the filling. Fold each side over the ends of the filling while rolling up burrito. Continue rolling up burrito until end of tortilla is on the bottom. You should have a rolled burrito now.
Pre-heat a large skillet over medium heat. Add oil and two burritos, seam side down. Cook for about 15-20 seconds or until golden brown. Roll burritos ¼ turn, and cook an additional 15-20 seconds. Roll burritos another ¼ turn and cook an additional 15-20 seconds. Roll burrito a final ¼ turn and cook an additional 15-20 seconds. Pre-heat oven to 250 degrees. Transfer burritos to a baking sheet and place in oven. Cook for 15 minutes or until heated through. Remove from oven, cut in half and serve.
---