Breakfast Lasagna Recipe
Prep Time: 45 Min | Cook Time: 40 Min | Servings: 6 | Calories: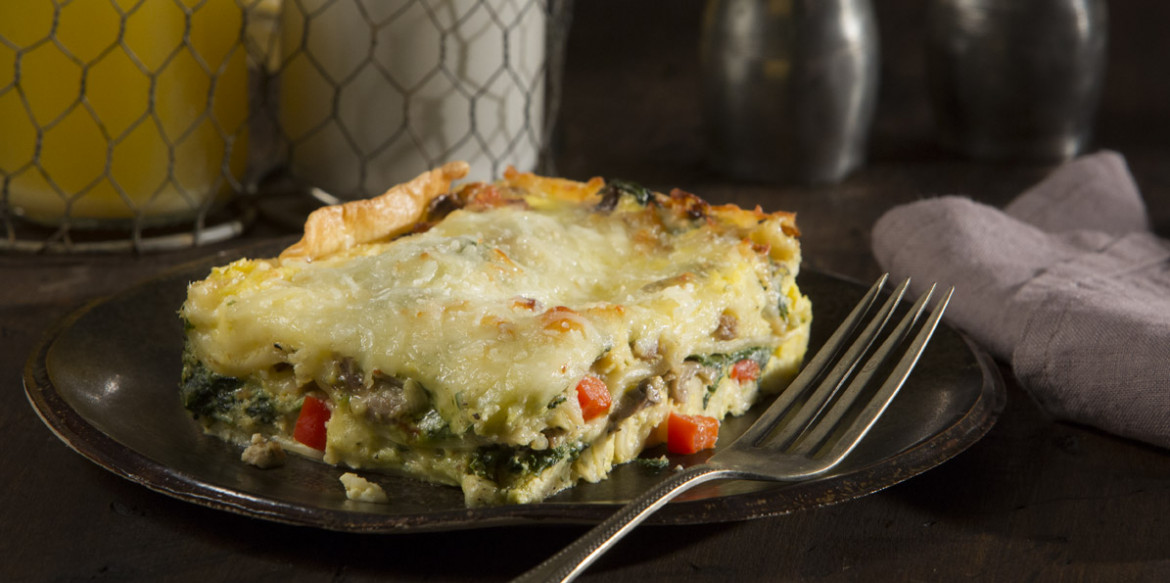 ---
For overnight guests or a holiday brunch with family, this breakfast lasagna is always a big hit— especially for a table full of hungry guests. Sargento® Mozzarella and Provolone Blend and 6 Cheese Italian add a rich, gooey deliciousness to this hearty dish. You can prepare the lasagna the night before and bake it in the morning.
Ingredients
1/2 lb. mild Italian sausage
2 Tbsp olive oil
1/2 cup onions, diced
2 cloves garlic, minced
1 cup mushrooms, sliced
1/2 cup zucchini, diced
1/2 cup red pepper, diced
1/2 tsp basil
1/2 tsp thyme
1/2 tsp red pepper flakes
1 (5 oz.) bag baby spinach
1 cup Sargento® Whole Milk Ricotta Cheese
5 eggs
1/2 cup Sargento® Grated Parmesan Cheese
2 tsp fresh chopped parsley
1/4 tsp garlic powder
1 tsp salt
1 tsp fresh ground pepper
1 cup half & half
Pinch of cayenne
6 long lasagna noodles, cooked, drained
3/4 cup Sargento® Shredded Mozzarella Provolone Blend
3/4 cup Sargento® Shredded 6 Cheese Italian
Directions
Preheat oven to 375º
In a cast iron skillet on medium heat, cook mild Italian sausage until browned. Remove from pan and set aside.
In the same skillet, add olive oil. Sauté onions, garlic, mushrooms, zucchini, and red pepper on medium-high until soft and transparent. Add oregano, basil, thyme, red pepper flakes, and continue salting for 3 minutes. Remove veggies from pan, add to sausage and set aside.
In the same skillet, sauté baby spinach until wilted. Remove from pan, add to veggies and sausage. Set aside.
In a small bowl, mix Sargento® Whole Milk Ricotta Cheese, egg, Sargento® Grated Parmesan Cheese, parsley, garlic powder, salt, and pepper.
In another small bowl, whisk half and half, eggs, salt, ground pepper, and cayenne.
Spray a 9 x 9 pan with oil and layer in this order: 1/4 cup of egg/milk mixture, layer 2 lasagna noodles, add half of ricotta mixture, add half of veggie/sausage mix, 3/4 cup Sargento® Shredded Mozzarella & Provolone Cheese, layer 2 lasagna noodles, add remaining ricotta mix, add remaining veggie/sausage mix, 3/4 cup Sargent® Shredded 6 Cheese Italian
---