Squash Mac & Cheese Balls Recipe
Prep Time: 45 min | Cook Time: 10 min | Servings: 12 | Calories: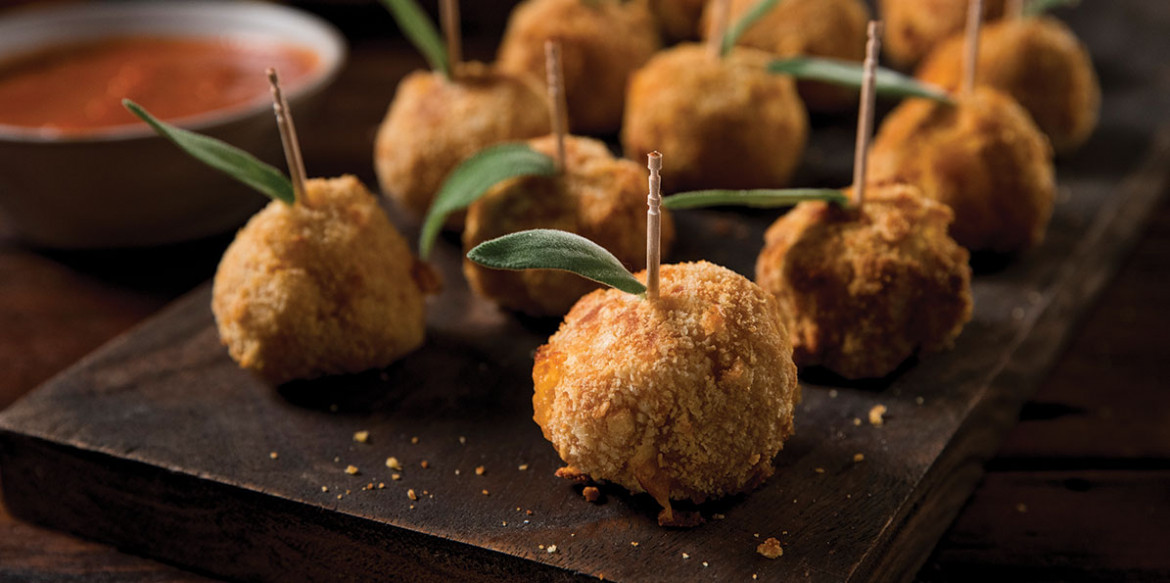 ---
These tasty little appetizers bring a festive flair to your holiday buffet. They consist of macaroni and cheese, spaghetti squash and Sargento® Shredded 18 Month Aged Cheddar. The aged cheese brings a rich flavor profile to these appetizers, which are prepared in an air fryer.
Ingredients
1 1/2 C Uncooked elbow macaroni
1 1/2 C Sargento® Shredded 18 Month Aged Cheddar Cheese
1 C Spaghetti squash, cooked and chopped
2 Tbsp. Heavy cream
2 Tbsp. Butter, melted
1/2 tsp. Salt
1/2 tsp. Pepper
2 C Butter flavored crackers, crushed and divided
1/2 C Flour
3 Large eggs, beaten
2 Tbsp. Butter, melted
Directions
Cook macaroni according to package directions. Drain in a colander.
While pasta is cooking, in a medium bowl, combine cheese, squash, cream, butter, salt, pepper and ½ cup of cracker crumbs.
Stir hot pasta into bowl with cheese mixture. Stir well until thickened and cheese has melted lightly. Mixture should be sticky enough to form into balls.
Refrigerate mixture until cooled completely.
TO MAKE BALLS:
Wet your hands lightly with water. Spoon a heaping tablespoon of macaroni mixture into your hand. Carefully form into a rounds ball. Place ball on a foil lined baking sheet, and set aside. Repeat with remaining macaroni mixture. There should be about 24 formed balls. Freeze balls for 15-20 minutes..
Transfer remaining crushed cracker crumbs into a shallow bowl or dish. Stir in remaining melted butter. Set aside. Transfer flour into another shallow dish and set aside. Transfer egg to a shallow dish and set aside.
Coat balls one at a time in flour, then egg, then crushed cracker mixture. Place balls back on the baking sheet. Repeat coating with remaining balls.
Place half of the breaded balls in a pre-heated air fryer. Cook for 8-10 minutes or until golden brown and heated through. Transfer to a plate and repeat with remaining balls. Serve.
NOTE; Balls can be air fried in advance and kept warm until ready to serve.
---