Potato & Bacon Chowder
Prep Time: 10 min | Cook Time: 25 min | Servings: 4 | Calories: 374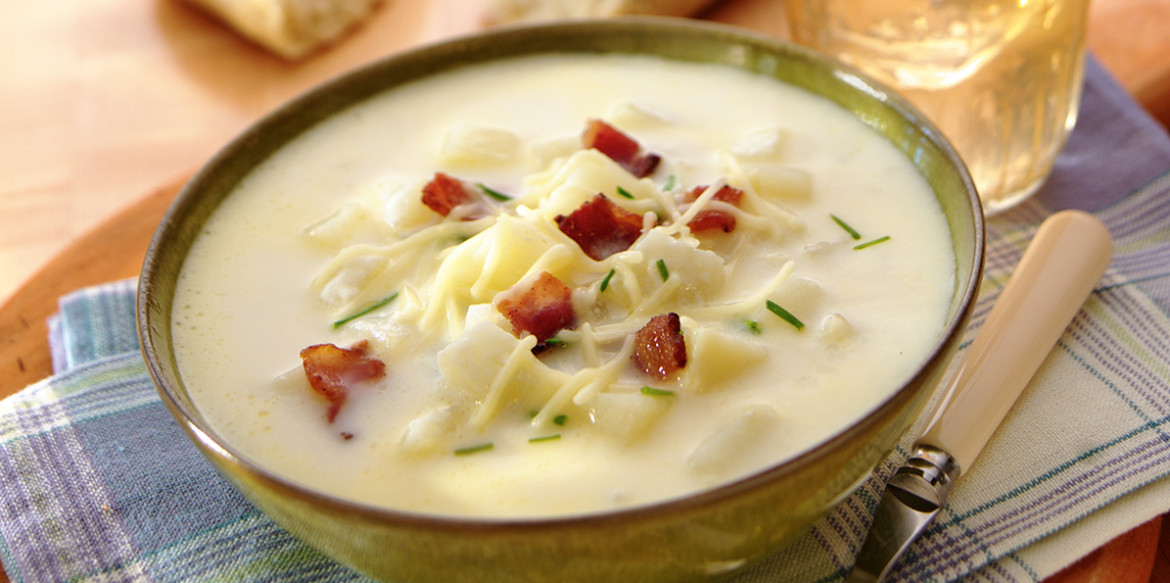 ---
Every spoonful of this velvety chowder delivers incredibly mouthwatering flavors from crispy applewood smoked bacon in a mixture of sautéed onions mixed with tender boiled potato cubes cooked with Sargento® Shredded Extra Sharp Cheddar Cheese in a chicken broth and topped springy chopped chives.
Ingredients
2 thick slices bacon, preferably applewood smoked, diced
1/2 cup chopped sweet or yellow onion
1 can (14 oz.) reduced sodium chicken broth
2 cups 2% milk
1 large baking (russet) potato, peeled, cut into 1/4-inch cubes (1-1/2 to 2 cups)
1/4 tsp. salt
1/4 tsp. freshly ground black pepper
Chopped chives, thyme or parsley (optional)
Directions
Cook bacon in a large saucepan over medium heat until crisp, stirring occasionally. Use a slotted spoon to transfer bacon to a paper towel; set aside.
Cook onion in drippings in same saucepan 4 minutes, stirring occasionally. Add broth, milk, potato, salt and pepper; bring to a boil. Reduce heat; cover and simmer 15 minutes or until potato is tender.
Turn off heat; add 1-1/2 cups cheese, stirring until melted.* Ladle into shallow bowls; top with remaining 1/4 cup cheese and reserved bacon. Garnish with chives, if desired.
---