Spinach Artichoke Dip Recipe
Prep Time: 10 Min | Cook Time: 15 Min | Servings: | Calories: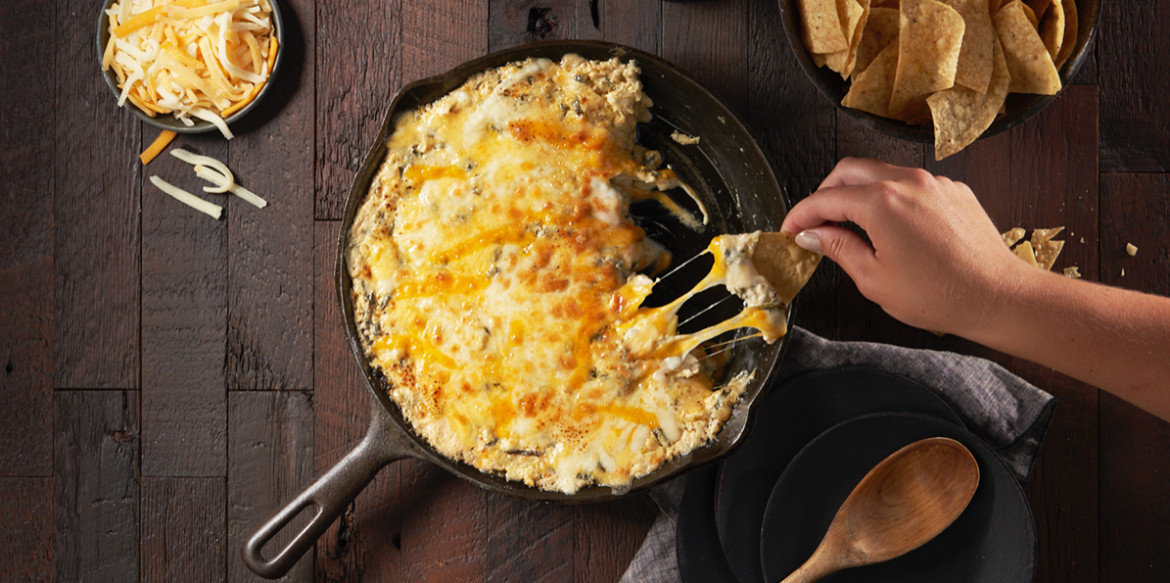 ---
Cheesy, creamy, chunky artichoke dip is a favorite at any party. This version uses Sargento® Shredded 4 Cheese Mexican with chopped artichoke hearts, chopped fresh spinach, garlic, sour cream, mayo, cream cheese and diced green chilies and hot sauce for a little heat. Served with tortilla chips.
Ingredients
1 tsp. Olive oil
2 tsp. Garlic, minced
5 ozs. Baby spinach, chopped
1 can(15 ozs.) Small artichoke hearts, chopped
8 ozs. Cream Cheese, softened
1 cup Sour cream
½ cup Mayonnaise
1 can (4 ozs.) Diced green chilies, drained
1 Tbsp. Hot sauce
Salt and pepper to taste
Tortilla chips for serving
Directions
Pre-heat oven to 350 degrees.  Pre-heat a large skillet or frying pan over medium low heat.  Add olive oil and garlic.  Cook for 1 minute.  Add spinach and artichoke hearts.  Cook for 1-2 minutes or until spinach has wilted.
Add cream cheese, sour cream, mayo green chilies and hot sauce. Stir until mixture is well blended and cream cheese has melted.
Stir in 1 ½ cups of cheese, salt and pepper. Remove pan from heat and transfer mixture to a greased 1-quart casserole dish.
Bake for 15 minutes. Remove from oven, top with remaining cheese and bake an additional 5 minutes or until cheese has melted and lightly browned.  Serve with chips.
---