Pub Style Nachos
Prep Time: 15 Min | Cook Time: 44 Min | Servings: 4 | Calories: 539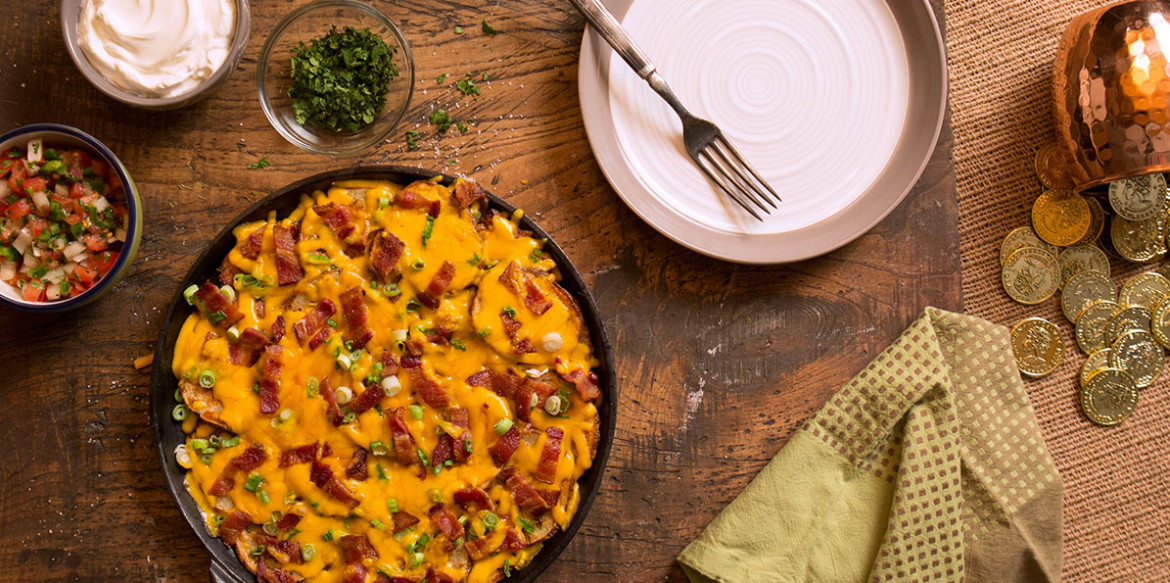 ---
These hearty nachos are made with thinly sliced potatoes baked to a nice crisp, then loaded with Sargento® Sharp Cheddar and bacon. After it's melted to cheesy perfection, top with sour cream (or Greek Yogurt), salsa, tomatoes, olives and green onions.
Ingredients
1-1/2 lbs. russet potatoes (cleaned and sliced 1/4 in. thick)
2 Tbsp. olive oil
1/2 tsp. dried rosemary leaves, crushed
1/2 tsp. dried thyme leaves, crushed
4-5 slices thick-cut bacon, cooked and chopped
1 Tbsp. chopped cilantro leaves
sea salt and black pepper to taste
Optional toppings : sour cream, Greek yogurt, pico de gallo, salsa, diced tomatoes
Directions
Preheat oven to 450 degrees F.
Slice potatoes into 1/4-inch rounds and place in a large bowl. Drizzle olive oil, rosemary, and thyme over potatoes. Stir to coat.
Place potatoes, in a single layer, on a baking sheet. Bake for 20 minutes, turn over, and continue baking for an additional 20 minutes.
Remove potatoes from baking sheet and place on a flat-sided cast iron skillet, slightly overlapping the edges.
Sprinkle with Sargento® Shredded Sharp Cheddar Cheese - Traditional Cut and bacon, and return to the oven for 3 to 4 minutes, or until cheese is completely melted.
Sprinkle with cilantro, salt and pepper, and serve with toppings of your choice.
---