Mozzarella Challah Bread
Prep Time: 2 Hrs | Cook Time: 30 Min | Servings: | Calories: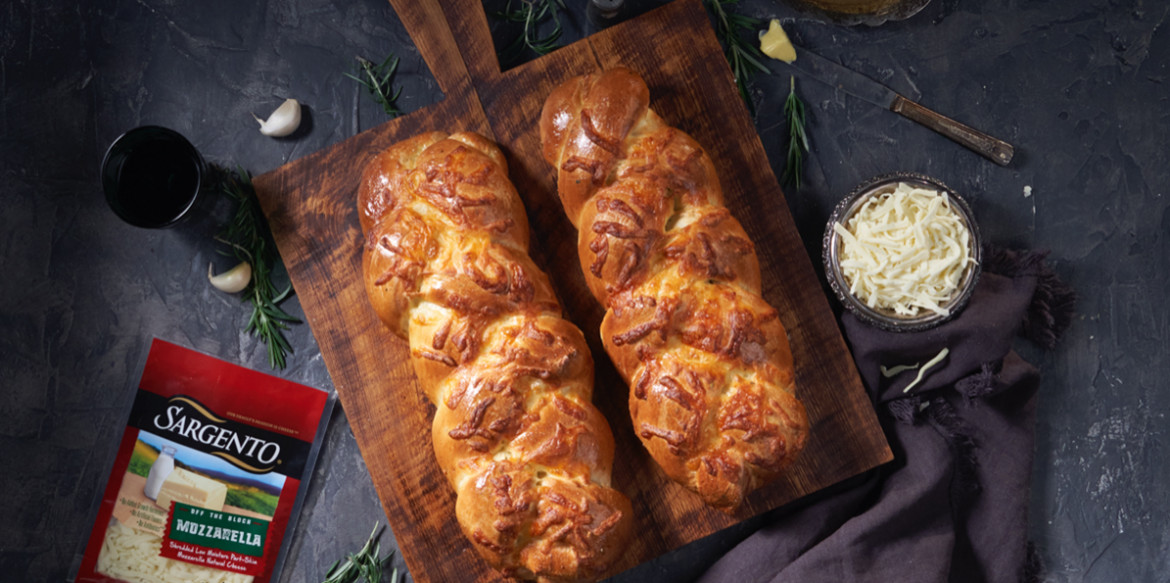 ---
This tender, soft challah bread recipe is full-flavored and full of cheese thanks to Sargento® Shredded Mozzarella Cheese.
Ingredients
1 cup Warm water (105-110 degrees)
3 Tbsp. Honey
2 tsp. Fine salt
1 envelope(7g.) Instant yeast
2 lg. Eggs
3 lg. Egg yolks
3 Tbsp. Olive or vegetable oil
4 ½ cups Bread flour
1 Tbsp. Parsley, finely chopped
2 tsp. Fresh rosemary, finely chopped
2 cloves Garlic, minced
2 cups Sargento® Shredded Mozzarella Cheese, divided
1 lg. Egg, beaten
Directions
In a small bowl, combine water and next 3 ingredients. Let rest for 10-15 minutes to activate yeast.
In the bowl of a large stand mixer with a bread hook attachment, combine eggs, yolk, oil, flour, parsley, rosemary, garlic and 1 ½ cups of cheese. Mix on low speed to combine ingredients.
Add reserved yeast mixture. Mix on medium low speed for about 10 minutes or until dough comes away from sides of bowl and is somewhat firm to the touch.
Transfer dough to a large bowl coated with oil. Cover with plastic wrap or a towel. Place in a cool oven. Set oven to 170 degrees for 1 minute, then turn off oven. Leave oven door closed. Proof for 1 ½ hours or until doubled in size.
Remove bowl of dough from oven. Roll dough into a 14" X 12" rectangle. Divide dough in half, then cut each half into 3 / 2" wide strips. Roll each piece into a 12-14" long rope. Connect one end of three ropes together. Braid dough and tuck in each end. Repeat with remaining 3 strips of dough.
Place braided loaves on a large, parchment lined baking sheet. Spray one side of a large piece of plastic wrap with non-stick spray and cover dough. Place baking sheet in oven and let proof for 1 hour.
Remove from oven and pre-heat oven to 350 degrees. While oven is pre-heating, gently brush dough with egg, then sprinkle remaining cheese over entire loaf.
Return baking sheet to oven and bake for 20-25 minutes or until deep golden brown. Remove from oven and let cool completely. Cut into slices and serve with softened butter.
---