Cheddar Stuffed Potatoes
Prep Time: 35 min | Cook Time: 60 min | Servings: 4 | Calories: 379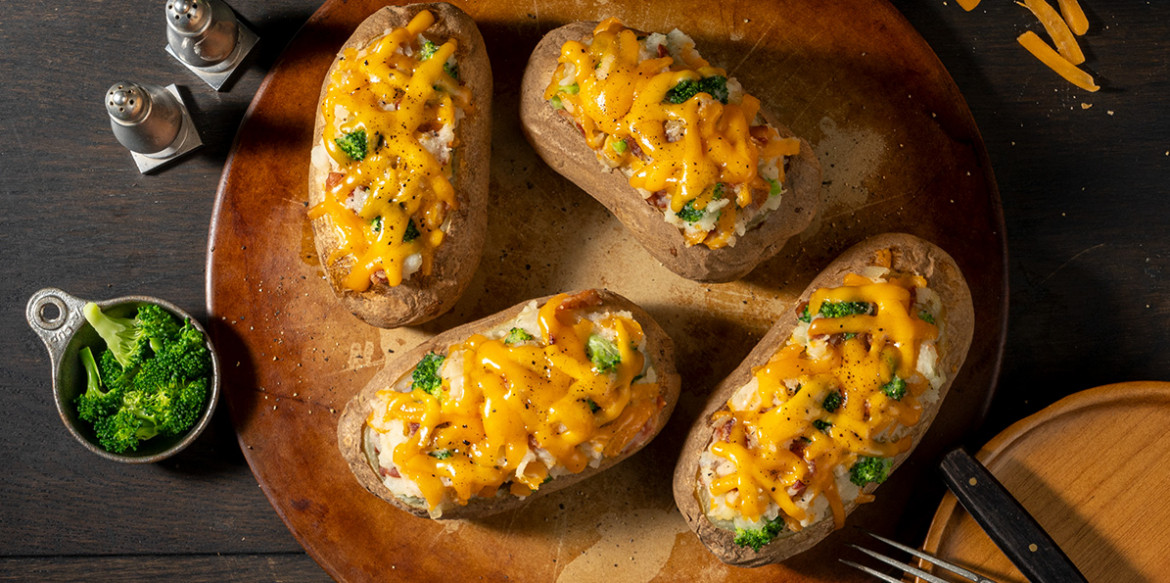 ---
<p>Give these baked potatoes a try as an addition to your next meal. They're bursting with flavor and savory ingredients including tender broccoli, onion, bacon bits and Sargento® Shredded Sharp Cheddar Cheese - Traditional Cut that melts and makes all the flavors come together. Garnish these potatoes with salsa or sour cream for extra flair.</p>
Ingredients
4 large baking potatoes
4 slices bacon, diced
2 cups small broccoli florets
1/2 cup chopped onion
1/2 tsp. salt
1/4 tsp. pepper
Salsa or sour cream (optional)
Directions
Bake potatoes in preheated 400°F oven 55 minutes or until tender; cool 10 minutes. Meanwhile, cook bacon in large skillet until crisp. Remove bacon with slotted spoon; set aside. Pour off all but 1 tablespoon drippings. Cook broccoli and onion in drippings over medium-high heat 8 to 10 minutes or until tender, stirring occasionally.
Cut off top one-fourth of potato (lengthwise) holding potatoes with a pot holder; reserve for another use. Scoop out potatoes into large bowl leaving 1/4-inch shells. Combine potato pulp with bacon, vegetable mixture, salt and pepper. Stir in 1 cup cheese; set aside.
Place shells in 2-quart rectangular baking dish. Spoon vegetable mixture into potato shells, mounding over shells; top with remaining cheese. Bake in a preheated 400°F oven 20 minutes or until heated through. Serve with salsa or sour cream, if desired.
---