Cheese & Garlic Rolls Recipe
Prep Time: 25 Min. | Cook Time: 20 Min. | Servings: | Calories: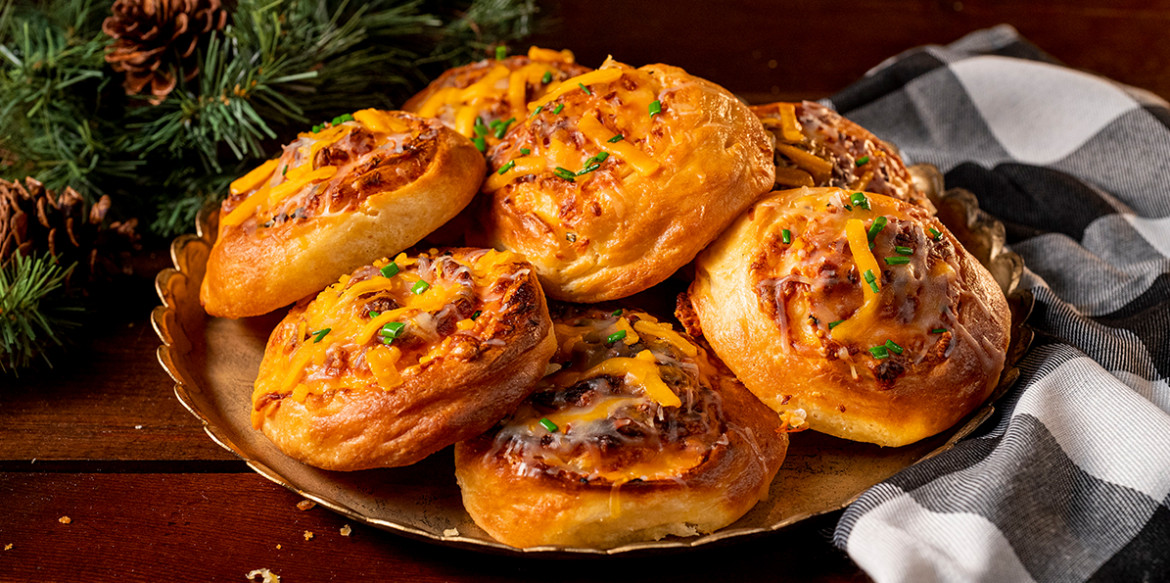 ---
Everyone loves fluffy, buttery rolls during the holidays. Well, these pinwheels are not only fluffy and buttery, but are also flavored with garlic and loaded with Sargento® Shredded Cheese.
Ingredients
1 Tbsp. Dry yeast
¼ cup Granulated sugar, divided
½ cup Water
4 ½ cups(600g) Bread flour
1 tsp. Salt
1 cup Milk, warmed
2 lg. Eggs, room temperature, beaten
5 Tbsp. Butter, melted, divided
3 Tbsp. Butter, softened
1 1/2 tsp. Garlic salt
Directions
In a small bowl, combine yeast, 1 Tablespoon of sugar and water. Stir to dissolve. Let rest for 5 minutes.
In a large bowl, combine flour, remaining sugar and salt. Make a well in the center of the bowl. Add milk, eggs, 3 tablespoons of melted butter and yeast mixture. Stir with a spoon until mixture forms a sticky dough. Cover with a clean, wet towel and place in a warm location for 1 ½ hours or until doubled in volume.
Punch down dough and move dough around to get rid of bubbles.
Dust a clean, flat surface with flour and place dough on surface. Dust top of dough with more flour.
Roll out dough into a 18" X 12" X 1/2" rectangle. Lift up dough as you roll it out to make sure it isn't sticking to the surface.
Spread softened butter over surface of bread with a butter knife or the back of a spoon over entire surface. Sprinkle garlic salt over butter. Sprinkle 1 ½ cups of each cheese over garlic salt.
Starting from the long side, rollup dough forming an 18" long roll. Cut roll in half to make two 9 inch pieces. Cut each half in half again, then cut each piece into three equal slices. You should have 12 equal pinwheels.
Carefully place pinwheels cut side down about 2 inches apart on a large, greased baking sheet. Spray top of rolls with non-stick spray and cover with plastic wrap. Place in a warm location again until almost doubled in size.
While rolls are rising, pre-heat oven to 375 degrees. Bake for 17-20 minutes or until risen and golden brown. Remove rolls from oven and brush with remaining melted butter and sprinkle remaining cheese over hot rolls. When cheese is melted and rolls have cooled slightly, serve.
---