Cheese & Asparagus Wraps Recipe
Prep Time: 15 min | Cook Time: 23 min | Servings: 8 | Calories: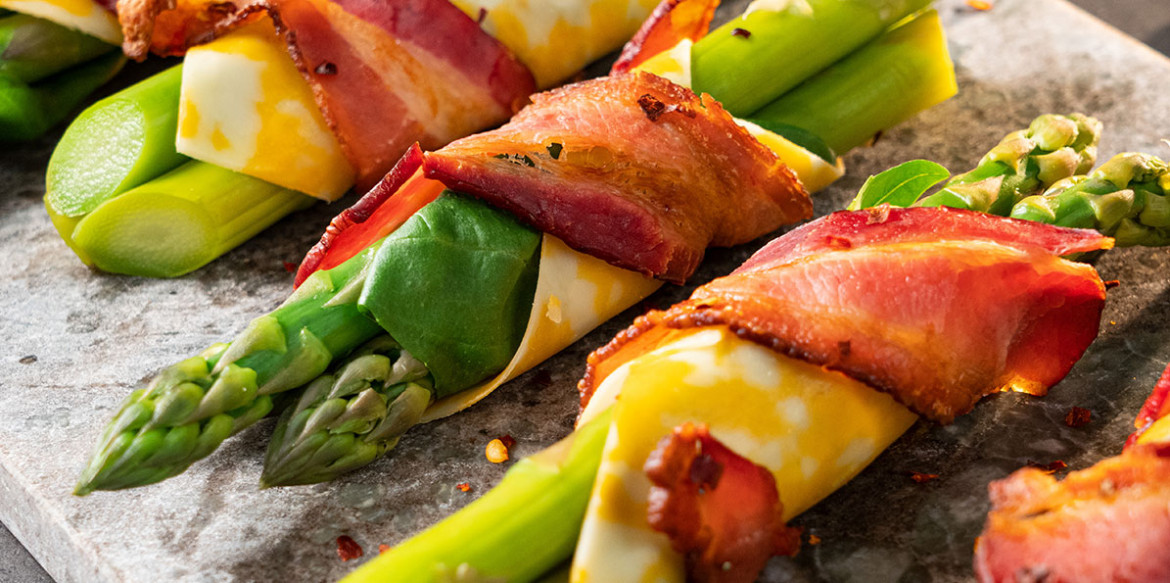 ---
This fresh tasting, quick to make recipe will be a hit at any gathering. Keep this recipe close by anytime you need an easy snack or crowd pleasing finger food.
Ingredients
½ tsp salt
24 asparagus spears, ends trimmed
8 slices bacon
8 basil leaves
Crushed red pepper flakes, to taste
Directions
Bring a medium pot of water to boil & add salt. Add asparagus and cook for 2-3 minutes until the spears turn bright green and are just al dente. Using a pair of tongs, transfer asparagus to a bowl of ice water to stop the cooking. Once cooled, remove asparagus & pat dry.
Meanwhile preheat the oven to 400 F. Place a flat roasting rack over a sheet tray and lay bacon strips on the rack. Roast for about 15-20 minutes until bacon is cooked through but not crisp. Set aside until just cool enough to handle.
Place one basil leaf on a piece of cheese. Wrap around asparagus on a diagonal, basil leaf positioned between asparagus and cheese, then wrap one piece of bacon on a diagonal over the cheese. Place on a plate, ends of bacon facing down. Repeat with remaining spears. Sprinkle with additional red pepper flakes as desired and serve.
---