Articles
Creating balanced lunches kids will love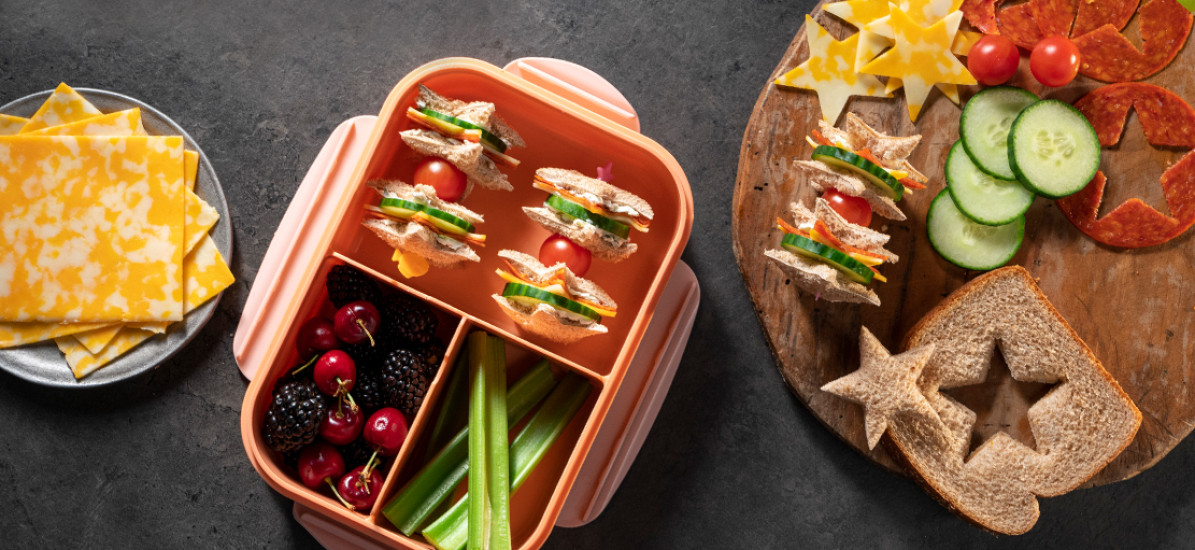 School is back in session and that means busy parents (like you!) are doing everything they can to ensure the kiddos are prepped for a great year ahead! From picking out a snazzy new backpack to stocking up on essential classroom supplies to finding delicious lunchbox recipes that will help them through the day, we know how important it is to set them up for success.

That's why we've compiled a few quick tips to keep their little bellies full of the good stuff so they can have a great school day. So, without further ado, let's dig right in and explore our top four ways for packing up boxes that promise to keep lunchtime interesting, and of course, oh-so-yummy!
1. Start with nutrient-rich foods
Make nutrient-rich ingredients the foundation of their midday meal. Try lean proteins like grilled chicken, turkey, plant-based options like hummus or a black bean burger. Then for sandwiches, consider whole grain bread or tortilla for a wrap.
2. Give sandwiches a spin
Go beyond the basic pb&j or ham and cheese this year! Sandwiches are a versatile and easy way to create balance (and fun!) in their lunchbox. Using a whole grain bread or wrap, layer on their favorite protein. Then load on fresh veggies like lettuce, spinach, tomatoes, avocado and cucumbers to add both color and texture. Don't forget to finish it off with the creamy, rich taste of their favorite Sargento® real, natural cheese slices. Cheddar, Swiss, Colby-jack, Havarti... you name it, Sargento® cheese has it!
3. Add superb snacks
Keep mealtime exciting by switching up sides. Create a fruit salad with berries, grapes and apple slices – and satisfy their sweet tooth. Baby carrots, bell peppers or sugar snap peas are a great choice for kids who love extra crunch in their lunch. Want something quick, easy and contains protein? Toss in a Sargento® Balanced Breaks® snack pack. With tasty combos of real cheese, dried fruit, crunchy crackers, roasted nuts and more, your little ones will L-O-V-E nibbling these grab-and-go snacks.
4. Don't forget the H20
Be sure to include a reusable bottle in their lunchbox, so they can refill as needed throughout their busy day. If your child craves more flavor, opt infused water, carbonated water or 100% fruit juice.
Crafting a balanced lunch doesn't have to be tricky, tedious or time-consuming. It's actually quite simple – and fun too. By focusing on nutrient-rich foods, tasty sandwiches, yummy sides and hydration, you can give your favorite little people the nourishment they need to thrive from the first bell to the last.