Sheet Pan Crunchy Quesadilla Recipe
Prep Time: 20 Min | Cook Time: 30 Min | Servings: | Calories: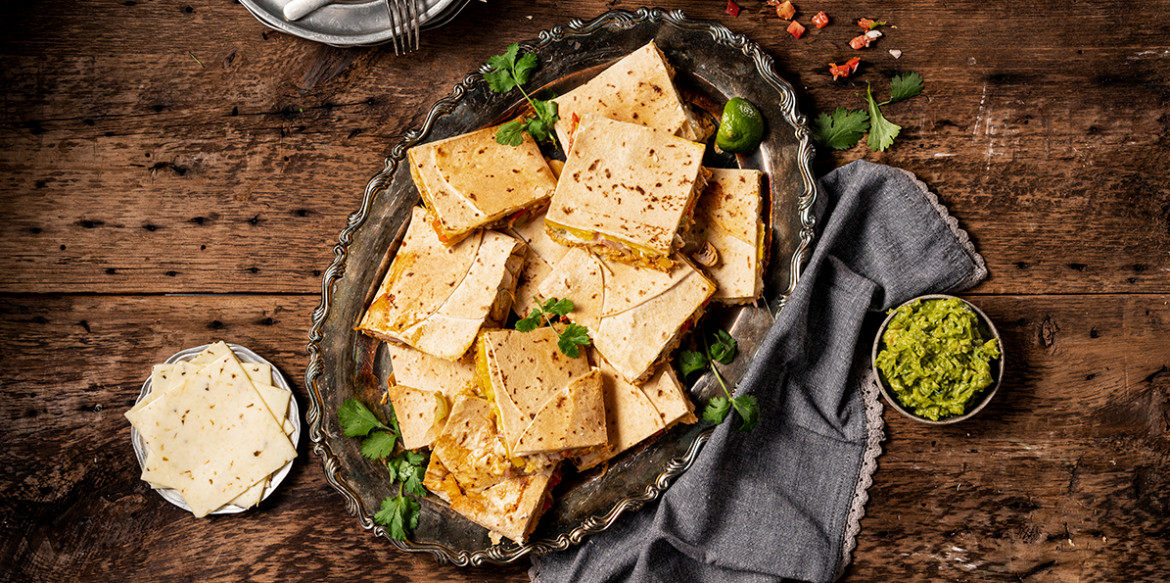 ---
Quesadillas are a family favorite. This extra large, one pan quesadilla uses all the ingredients stacked and folded into a perfect package for your family dinner. Just bake, cut and enjoy.
Ingredients
2 Tbsp. Vegetable oil, divided
2 cups Bell pepper strips (green, red or yellow)
1 cup Red onion, cut into strips
3 cups Cooked rotisserie chicken meat, pulled
1 package Taco seasoning
1/4 cup Hot water
7 12-inch Flour tortillas, divided
6 ea. Corn tortillas
Assorted condiments (salsa, guacamole, sour cream, jalapenos, cilantro)
Directions
Pre-heat oven to 400 degrees.  Pre-heat a large, non-stick skillet over medium heat. 
Add 1 Tbsp. of oil to skillet, then add pepper and onion. Saute for 3-4 minutes, stirring often until onions and peppers are slightly softened.  Remove from heat and transfer mixture to a large bowl.
Add rotisserie chicken meat, seasoning, and hot water.Toss mixture with a large spoon or rubber spatula. Set aside.
Meanwhile, liberally brush remaining oil into the bottom and up the sides of a large sheet pan or baking dish with a 1" lip. Microwave the flour tortillas for 30-45 seconds or until softened.  Place 6 of the tortillas overlapping into the bottom of the sheet pan, gently pressing them into the sides and corners of the pan while still warm.  Half of the tortillas should be overhanging the pan.  These will be folded over at the end.
Place slices of cheese from one package overlapping into the pan over the flour tortillas.
Spoon reserved chicken, pepper and onion mixture evenly into pan over cheese.
Place remaining package of cheese slices overlapping over chicken mixture.
Place corn tortillas over cheese. Place remaining flour tortilla in canter of pan over corn tortillas.
Fold in the remaining tortilla halves one over the other, pressing down the corners as you go until the entire top is folded over.  Place another similar sized baking dish or sheet pan on top of the folded quesadilla.  Place a heavy bottom saucepan on top of the dish.
Place on center oven rack and bake for 30 minutes or until top is lightly browned. Remove from oven. Cut into squares and serve with desired condiments.
---