Melty Cheddar-Jack Enchiladas Recipe
Prep Time: 25 Min | Cook Time: 40 Min | Servings: | Calories: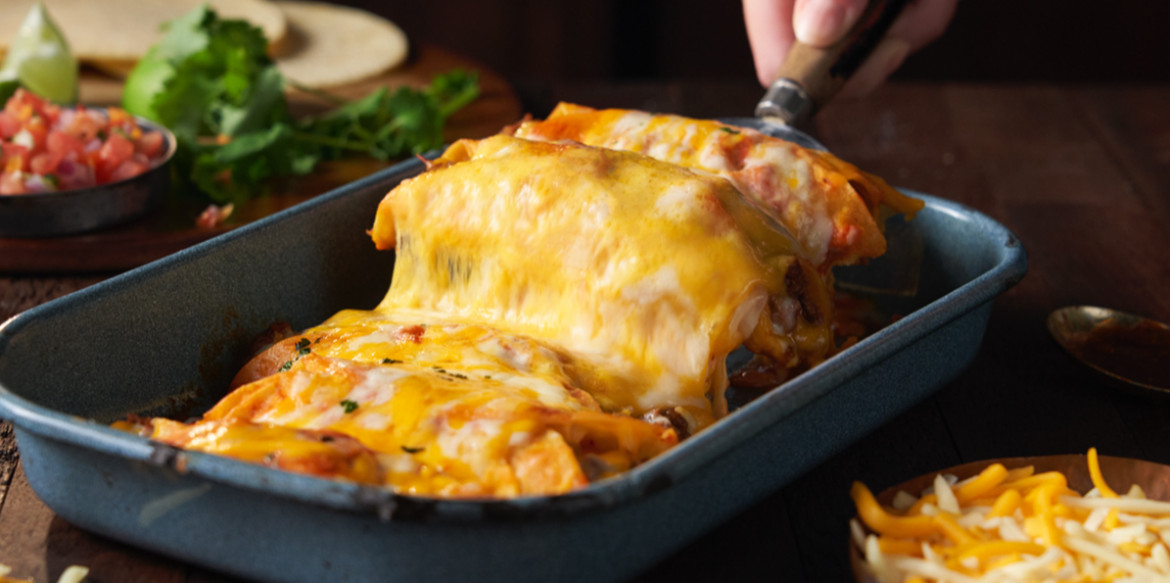 ---
These classic enchiladas are stuffed with a saucy ground beef and onion mixture with Sargento® Cheddar-Jack Cheese, topped with more sauce and cheese, then baked.
Ingredients
3/4 lb. Ground chuck
½ cup Onion
10 ozs. Red chile enchilada sauce, divided
¼ cup Prepared salsa
8 ea. Corn tortillas
2 Tbsp. Vegetable oil
2 cups Sargento® Cheddar-Jack Cheese
Directions
Pre-heat a large skillet over medium heat. Brown ground beef with onion, stirring often, until meat is no longer pink. Strain cooked meat and onion mixture in a strainer over a bowl. Combine drained beef fat with vegetable oil in a small bowl and set aside.
Add strained beef back to pan and add half of enchilada sauce and all of the salsa. Cook over medium heat, stirring often until mixture has thickened slightly. Season with salt 7 pepper to taste. Remove from heat and set aside.
Lightly fry tortillas one at a time in a small skillet over low heat, for about 30 seconds per side, using about 1 tsp. of reserved oil/fat mixture per tortilla. Pat dry on paper towels. Repeat until all tortillas are fried. Set aside.
To assemble Enchiladas: Pre-heat oven to 375 degrees. Pour the remaining enchilada sauce into a shallow dish. Dip one side of each reserved tortilla into the enchilada sauce, then place sauced side down in the bottom of a greased 11" X 7" casserole dish. Spoon about 1/3 cup of reserved filling down the center of the tortilla, then sprinkle about 1 tablespoon of cheese over filling. Fold both sides in. Repeat with remaining tortillas, filling and cheese, placing each filled enchilada next to the previous one.
Spoon remaining sauce over filled tortillas and sprinkle remaining cheese over the top. Place dish on the center rack of the oven. Bake for 20-30 minutes or until heated through and cheese on top is melted. Remove from oven and serve.
---