Grilled Cheese & Tomato Soup Shooters
Prep Time: 15 min | Cook Time: 30 min | Servings: 12 | Calories: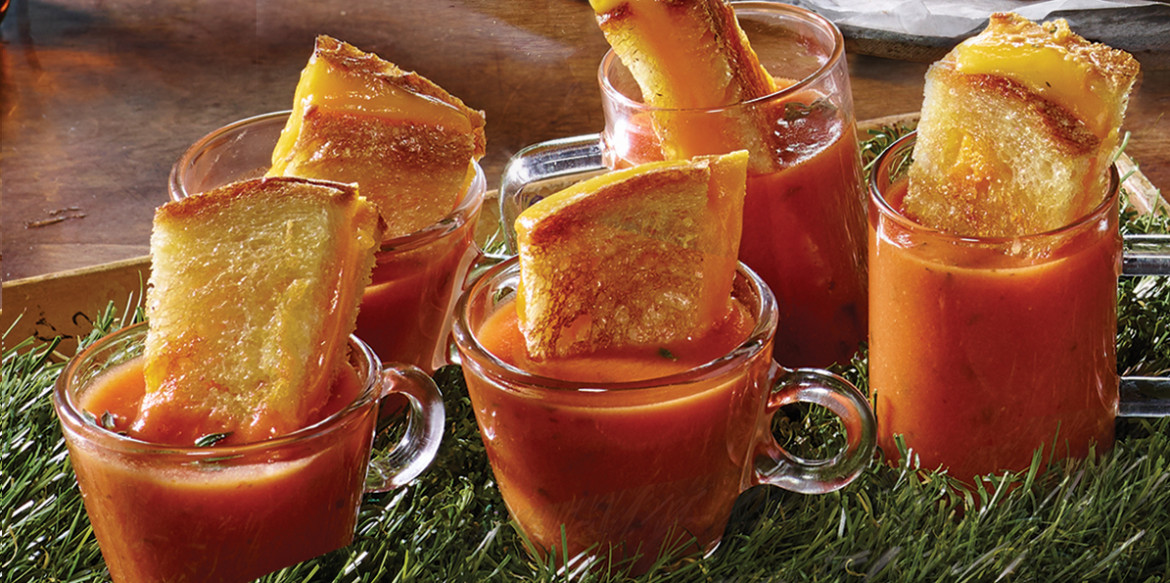 ---
Ingredients
TOMATO SOUP
1 Tbsp. butter
1/2 small yellow onion
1 clove garlic
1 Tbsp. flour
1 cup tomato juice
1 can crushed tomatoes (14oz.)
3 to 4 leaves fresh basil
1/4 cup heavy whipping cream
Salt & pepper to taste
GRILLED CHEESE
2 Tbsp. butter or margarine
6 slices sourdough bread
Directions
TOMATO SOUP: In a heavy bottom sauce pan saute the onions and garlic over low to medium heat until they become translucent. Stir in the flour and cook over low heat for 4-6 minutes until a light almond color is reached.
Slowly add the tomato juice whisking out any lumps that may form. Add crushed tomatoes and fresh basil and simmer for 15 minutes.
Pour in heavy cream and simmer for an additional 5 minutes on low to medium heat.
Place in blender and pulse till smooth consistency is achieved. Season with salt and pepper. Fill 12 shooter glasses with approximately 2.5oz of soup per glass.
GRILLED CHEESE: Heat a large griddle or two large nonstick skillets over medium-low heat. Spread butter evenly over one side of each bread slice. Place 3 slices bread, buttered side down, on griddle or in skillets.
Layer 2 slices cheese on each slice of bread. Top with remaining bread, buttered side up. Cook 3 minutes per side or until golden brown and cheese is melted.
Cut sandwiches into 4 strips per sandwich. Place one strip of sandwich in each shooter glass.
---