One Pan Club Sandwiches
Prep Time: 10 Min | Cook Time: 25 Min | Servings: 12 | Calories: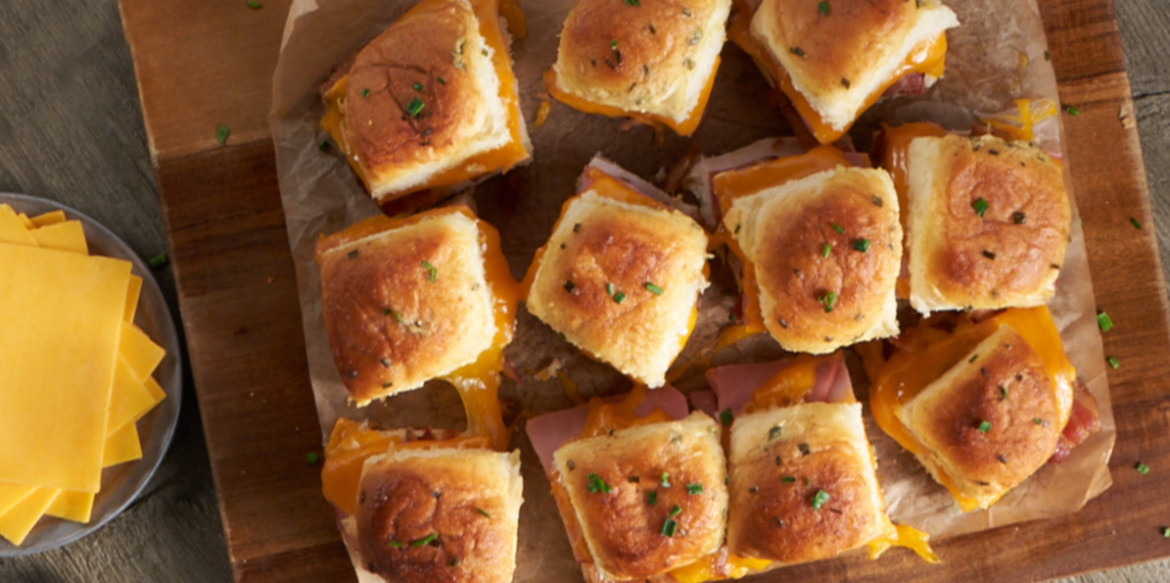 ---
Soft buttery rolls are topped with dijonaise, deli turkey, smokey bacon, honey ham and Sargento® Sharp Cheddar Slices, and brushed with a chive butter mustard mixture, then baked.
Ingredients
24 ea. Soft Hawaiian rolls, split
3/4 cup Dijonaise mustard
2 Tbsp. Butter, melted
1 Tbsp. Chives, chopped
8 oz. Deli turkey, sliced
12 slices Cooked bacon, halved
8 oz. Deli ham, sliced
Directions
Pre-heat oven to 350 degrees.  Line the bottom of a large baking sheet with the bun bottoms.  Spoon a teaspoon of dijonaise onto each bun bottom and spread with the back of the spoon.  Set remaining dijonaise aside.
Place turkey slices over bun bottoms, overlapping turkey where necessary until all bun bottoms are covered.
Place halved bacon slices over turkey, making sure at least 1 bacon piece is on each bun.
Place ham slices over bacon, overlapping ham where necessary until all buns are covered with ham.
Place cheese over ham, covering entire surface of buns.
Place bun tops over cheese.
Combine remaining dijonaise, melted butter and chives in a small bowl.  Brush mixture over bun tops.
Transfer pan to oven and bake for 15 minutes or until sandwiches are heated through and cheese is melted. Remove from oven, cut into individual sandwiches and serve.
---