Breakfast Quesadilla Hack
Prep Time: 10 Min | Cook Time: 10 Min | Servings: 4 | Calories: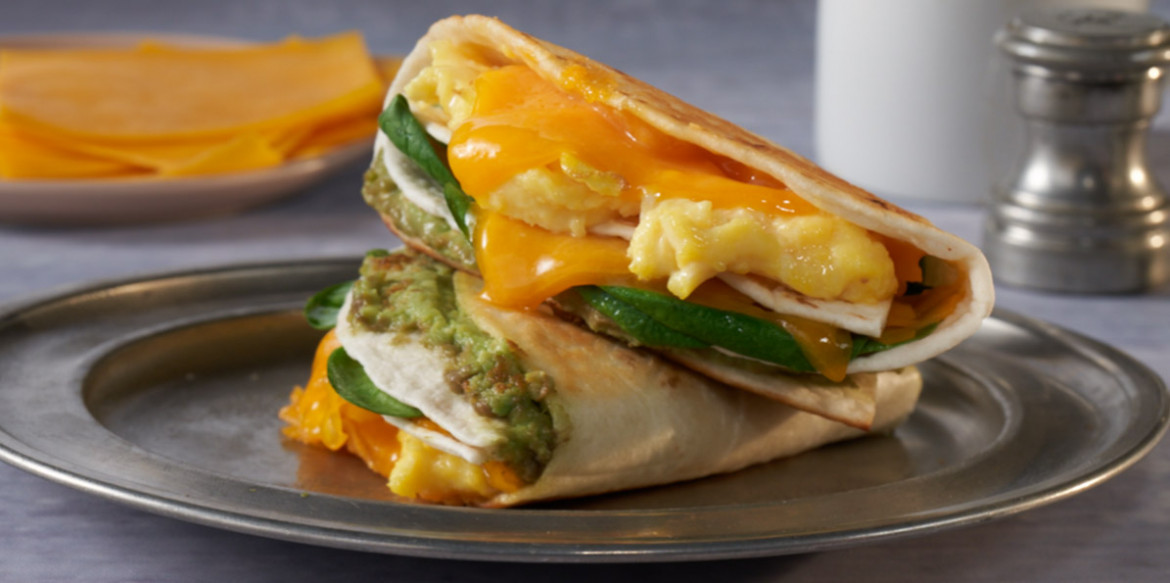 ---
Ultra Thin® Sharp Cheddar Cheese, baby spinach leaves, scrambled egg, and mashed avocado are positioned on each quarter of a large flour tortilla. A cut is made from the edge to the center of the tortilla, then each quarter is folded onto the next section until one triangular shape is formed. The folded quesadilla is quickly cooked on both sides until golden brown.
Ingredients
4 (10in) Flour tortillas
1 cup Baby spinach leaves
4 lg. Eggs, scrambled
1 med. Avocado, pitted, mashed
1 Tbsp. Vegetable oil
Directions
Place one tortilla on a clean, flat surface.  Place 1 slice of cheese over one quarter of tortilla.
Place ¼ cup of spinach leaves over a second quarter of tortilla.
Place another slice of cheese on a 3rd quarter of the tortilla.  Spoon some of the scrambled egg over the cheese.
Spread 2 tablespoons of mashed avocado onto last quarter of tortilla.
Make a single cut from the center of the tortilla to the edge in between the slice of cheddar and the avocado.
Starting with the cheese topped section, fold tortilla over the spinach, then fold the spinach section over the scrambled egg, then the scrambled egg section over the avocado. You should now have a quesadilla folded into a nice triangle.
Repeat process with remaining tortillas and ingredients until all four quesadillas are assembled.
Pre-heat a large skillet over medium low heat. Spoon about 2 teaspoons of oil into pan. Place all 4 folded quesadillas in pan. Cook for 1-2 minutes or until golden brown. Turn quesadillas with a spatula, add remaining oil and cook an additional 1 to 2 minutes or until golden brown. Transfer to a plate and serve.
---