Lasagna Grilled Cheese
Prep Time: 10 MIN | Cook Time: 25 MIN | Servings: 4 | Calories: 770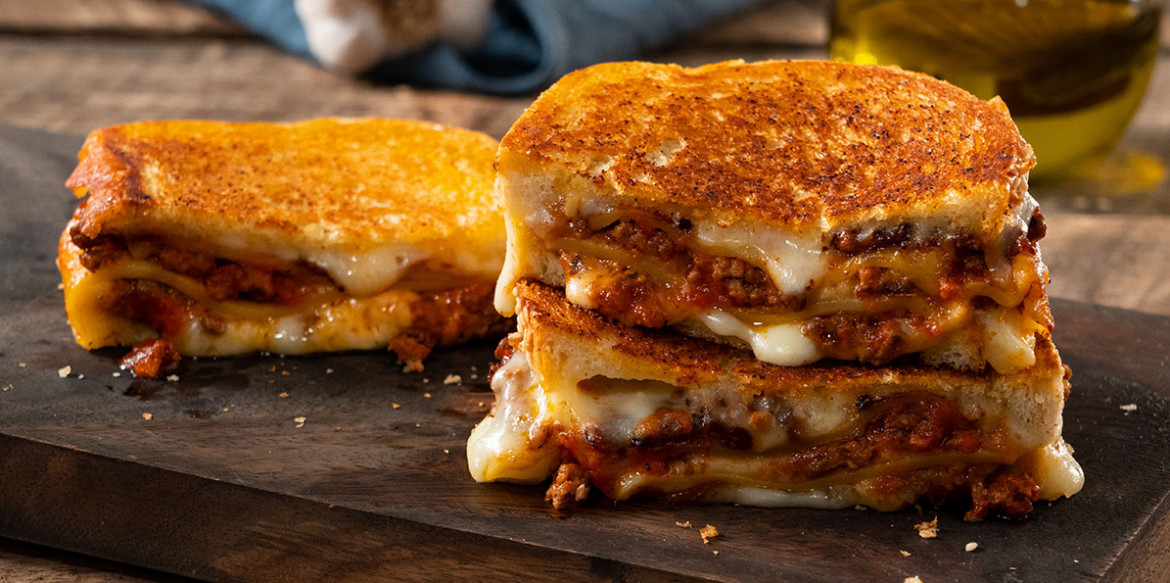 ---
<p>Lasagna with garlic bread is an incredible comfort food in the winter.&nbsp; With this recipe, we combined both and lots of Sargento® Mozzarella Cheese to create a lasagna grilled cheese sandwich.&nbsp; Incredible just got better! &nbsp; &nbsp;</p>
Directions
In a large skillet, brown ground beef until no longer pink. Drain fat and return to heat. Stir in sauce. Simmer for 10 minutes or until heated through. Remove from heat and let cool for 10 minutes.
To prepare lasagna, spray a 9" square baking dish with non-stick spray. Lay 3 cooked lasagna noodles into bottom and up sides of pan. Place 4 slices of cheese over lasagna noodles. Spread half of prepared meat sauce over cheese. Repeat layering with remaining noodles, 4 more slices of cheese and remaining sauce. Cover pan with foil and bake for 60 minutes. Remove from oven, let cool to room temperature.
In a small bowl, combine butter and garlic salt. Spread one side of each slice of bread with garlic butter. Set aside.
To Prepare Grilled Cheese: Cut cooled lasagna into 4 equal pieces. Place 1 slice of cheese on 4 slices of buttered bread. Transfer 1 piece of lasagna over cheese. Top each with 1 slice of cheese. Top with remaining buttered bread slices. Place 1 sandwich in a large, pre-heated skillet over medium low heat. Grill sandwiches for 3-4 minutes per side or until bread is golden brown and lasagna is heated through and cheese is melted.
Transfer sandwich to plate. Serve. Repeat with remaining sandwiches.
NOTE: Sandwiches can be grilled and kept warm and served family style with prepared pesto for dipping.
---