Pepperoni Pizza Soup
Prep Time: 15 min | Cook Time: 12 min | Servings: 4 | Calories: 566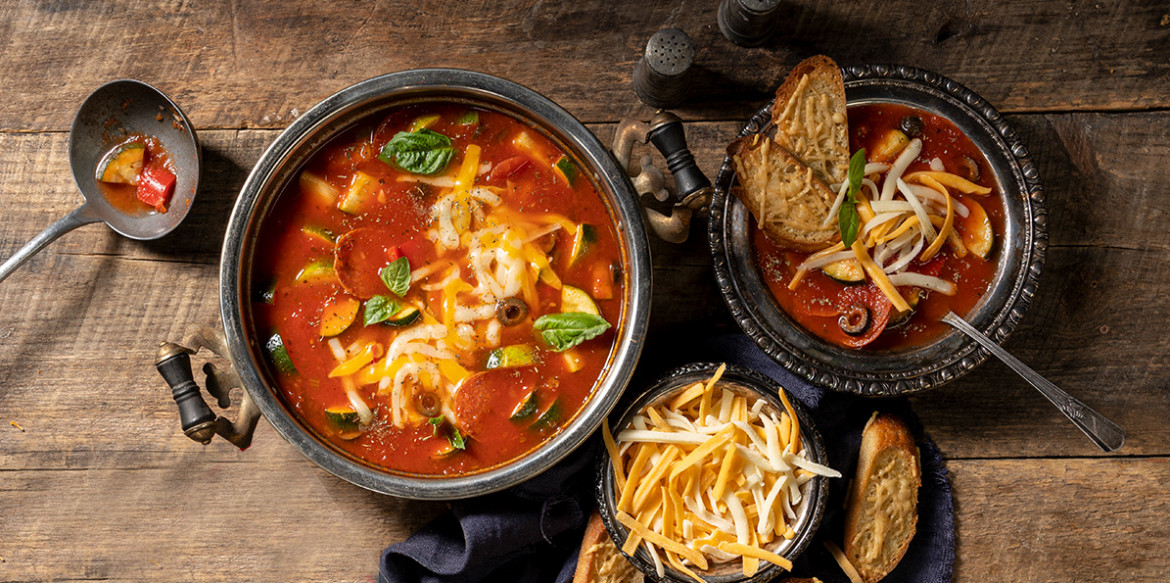 ---
Pepperoni, black olives, red bell pepper, tomatoes and Sargento® Shredded 4 Cheese Pizzeria create the pizza flavor in this hearty soup. Crusty Parmesan bread slices and fresh basil leaves add a delicious finishing touch.
Ingredients
8 slices French baguette bread, 1/2-inch thick
1 Tbsp. olive oil
1 can (14-1/2 oz.) chunky pasta-style stewed tomatoes
1 can (14-1/2 oz.) chicken broth
2 cups sliced zucchini, 1/2-inch thick
1 large red bell pepper, cut into 3/4-inch pieces
1 can (2-1/4 oz.) sliced black olives, drained
2 oz. thinly sliced pepperoni
Fresh basil sprigs (optional)
Directions
Brush bread slices with oil; sprinkle with Parmesan cheese. Place on baking sheet. Bake in preheated 400°F oven 6 minutes or until golden brown.
Combine tomatoes, chicken broth, zucchini and bell pepper in large saucepan. Heat to a boil; reduce heat. Simmer, uncovered, 5 minutes or until vegetables are crisp-tender. Stir in olives and pepperoni. Simmer 1 minute.
Ladle soup into four soup bowls; sprinkle evenly with Pizza Double Cheese. Top each serving with 2 bread slices. Garnish with basil sprigs, if desired.
---