Backyard Grilled Pizza Recipe
Prep Time: 45 min | Cook Time: 15 min | Servings: 4 | Calories: 875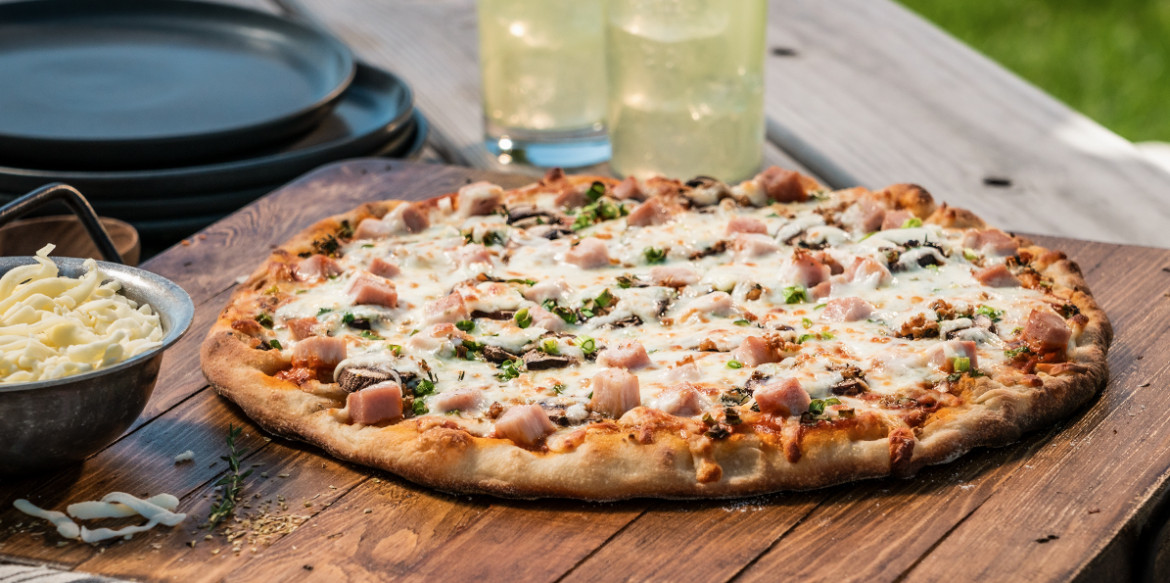 ---
You don't have to be a professional pizzaiolo or have an industrial pizza oven in your home to whip up some of the best pizzas on the block. All you need is a grill and our recipe for easy pizza dough that makes for an authentic crispy crust, every time. Embedded on a melted layer of Sargento® Shredded Mozzarella Cheese are smoky chipotle salsa, ham, mushrooms, and garlic bringing in some deeply savory flavors.
Ingredients
1-1/3 cups warm water
1 envelope active dry yeast
1 Tbsp. sugar
2 Tbsp. olive oil
4 cups all-purpose flour
1-1/2 tsp. salt
2 tsp. dried oregano
1 Tbsp. chopped roasted garlic (optional)
2 cups (8 oz.) Sargento® Shredded Mozzarella Cheese, divided
3/4 cup chipotle salsa
1/2 lb. grilled small portobello mushrooms
1/2 lb. diced ham
1 cup chopped green onions
Chopped fresh herbs (thyme, basil or chives)
Directions
Place water, yeast and sugar in food processor; pulse several times. Add olive oil, flour, salt, oregano and, if desired, garlic. Process until mixture forms a ball.
Transfer dough to lightly oiled bowl; cover with plastic wrap and let rise 45 minutes to 1-1/2 hours in warm, draft-free place. Punch down dough and turn out onto lightly floured work surface. Knead 2 minutes.
Divide dough into quarters; stretch each gently into a rectangle or circle. Spray or brush with oil.
Place dough, oiled side down, on cooking grate over preheated grill 2 minutes. Spray top with oil; remove from grill.
Sprinkle half of cheese on cooked side. Place salsa, mushrooms, ham and green onions over cheese; sprinkle with more cheese. Return to grill and cook 10 minutes more or until toppings are bubbly.
Let pizzas cool slightly and cut into wedges. Sprinkle with chopped fresh herbs.
---