6 Cheese Double Crust Pizza
Prep Time: 20 Min | Cook Time: 40 Min | Servings: 4 | Calories: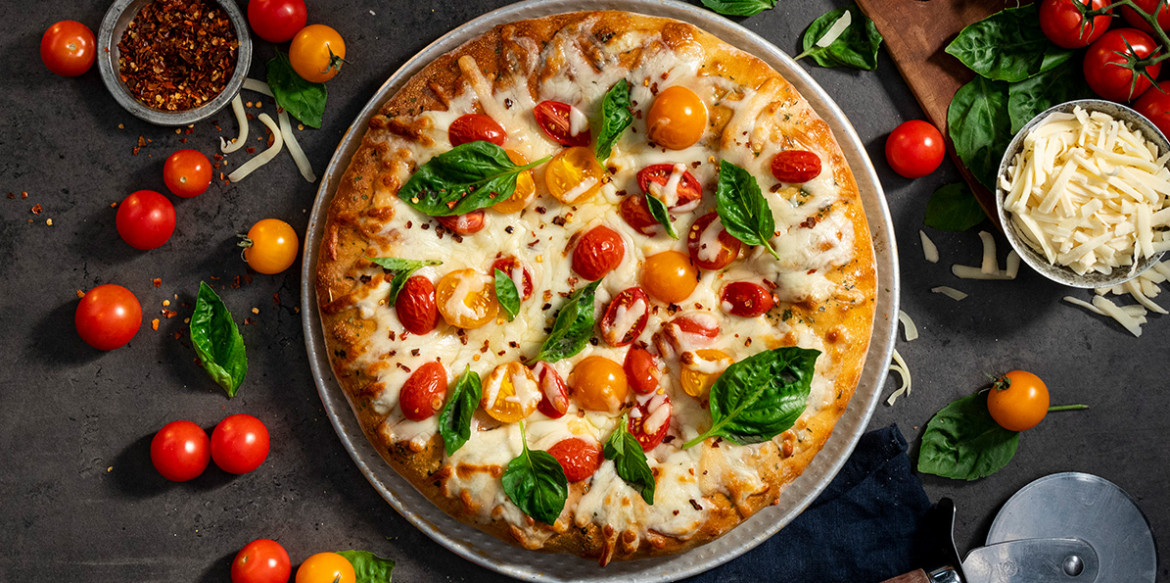 ---
Reserve Series™ Fresh Asiago and Aged Italian Blend cheeses are layered on a two crust pizza, then topped with fresh tomatoes and basil leaves for a margarita pizza that will satisfy everyone.
Ingredients
2 ea. Pizza dough balls (15 ozs. Ea.)
¼ cup Flour
1 pkg.(5 ozs.) Sargento® Reserve Series™ Fresh Asiago
2 pkg.(6 ozs.) Sargento® Reserve Series™ Aged Italian Blend
1 lg. Egg, beaten
1 tsp. Italian seasoning
12 ea. Fresh grape tomatoes, halved
8-10 ea. Fresh basil leaves
Directions
Pre-heat oven to 350 degrees. Remove pizza dough balls from refrigerator, coat with olive oil and let rest on counter covered for 1-2 hours or until dough starts to rise.
Dust a clean work surface with some flour, then stretch or rollout one dough ball into a 14" round. Place stretched dough round onto a floured pizza pan. Stretch or rollout remaining dough ball into a 16" round and set aside.
Layer cheese slices on top of dough in a circular pattern to within 1" of the edge. Sprinkle half of shredded cheese on top.
Carefully place remaining dough round over the dough round on the pan. It should hang over the other by about 2". Fold excess dough underneath the first one and press edges to keep cheese from melting out when it is baked.
Brush the top and sides of the dough with egg and sprinkle with Italian seasoning. Cut 3-4 slits on top crust to let steam escape.
Place pizza on middle rack of oven and bake for 20-25 minutes or until top is golden brown. Remove from oven and sprinkle remaining shredded cheese on top of pizza.
Place tomato halves over cheese. Return pizza to oven and bake an additional 10-15 minutes or until cheese in melted and lightly browned. Remove from oven. Place fresh basil leaves on top, cut into slices and serve.
---