Grilled Vegetable Quesadillas
Prep Time: 8 min | Cook Time: 18 min | Servings: 4 | Calories: 526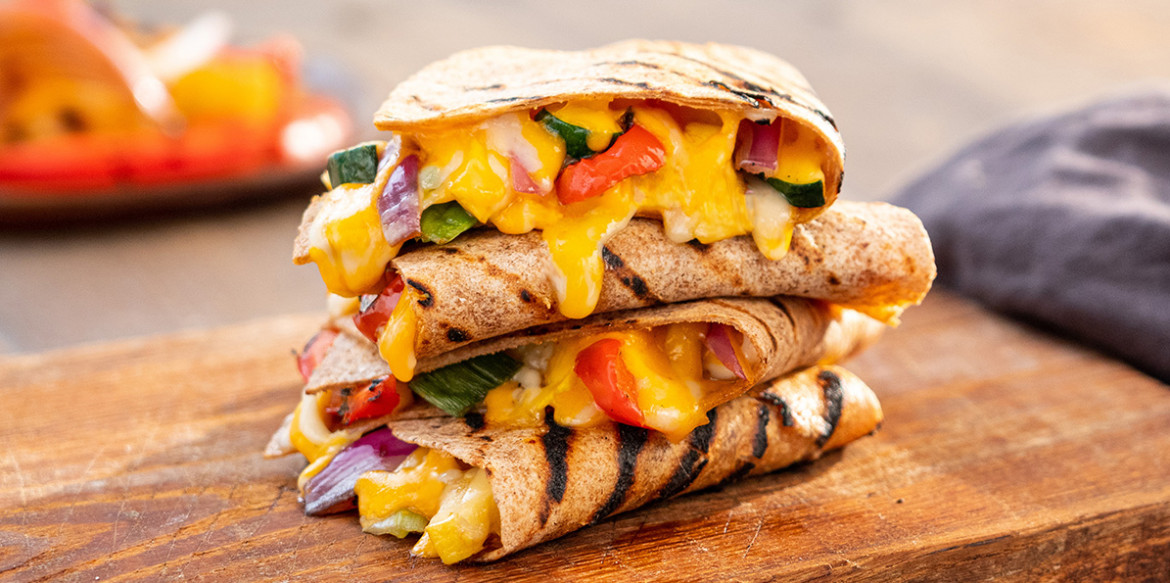 ---
<p>Make this veggie quesadilla any time you're in the mood for a meal that's packed with seasoned grilled zucchini, bell peppers and melted Sargento® Shredded Creamery 3 Cheese Mexican between two hearty tortillas with adobo sauce and your favorite Mexican garnishes.</p>
Ingredients
2 Tbsp. olive oil
1 to 2 Tbsp. pureed chipotle chilies in adobo sauce
1 red bell pepper
8 whole green onions
2 small zucchini or yellow squash, quartered lengthwise
8 (6-inch) whole wheat flour tortillas
2 cups (8 oz.) Sargento® Shredded Creamery 3 Cheese Mexican
1/4 cup chopped cilantro
Sour cream, salsa, guacamole (optional)
Directions
Combine oil and chilies. Set aside 1 tablespoon of the mixture. Brush remaining mixture over both sides of vegetables.
Grill vegetables over medium coals 10 minutes or until tender, turning occasionally. Cut bell peppers and zucchini crosswise into 1/4-inch slices.
Sprinkle half of cheese over four tortillas; drizzle reserved oil mixture over cheese. Top with grilled vegetables, cilantro, remaining cheese and tortillas. Grill quesadillas over medium-low coals 3 minutes per side or until cheese is melted and tortillas are lightly toasted. Cut into wedges and garnish with sour cream, salsa and guacamole, if desired.
---