Rainbow Stuffed Peppers
Prep Time: 20 Min | Cook Time: 20 Min | Servings: 4 | Calories: 320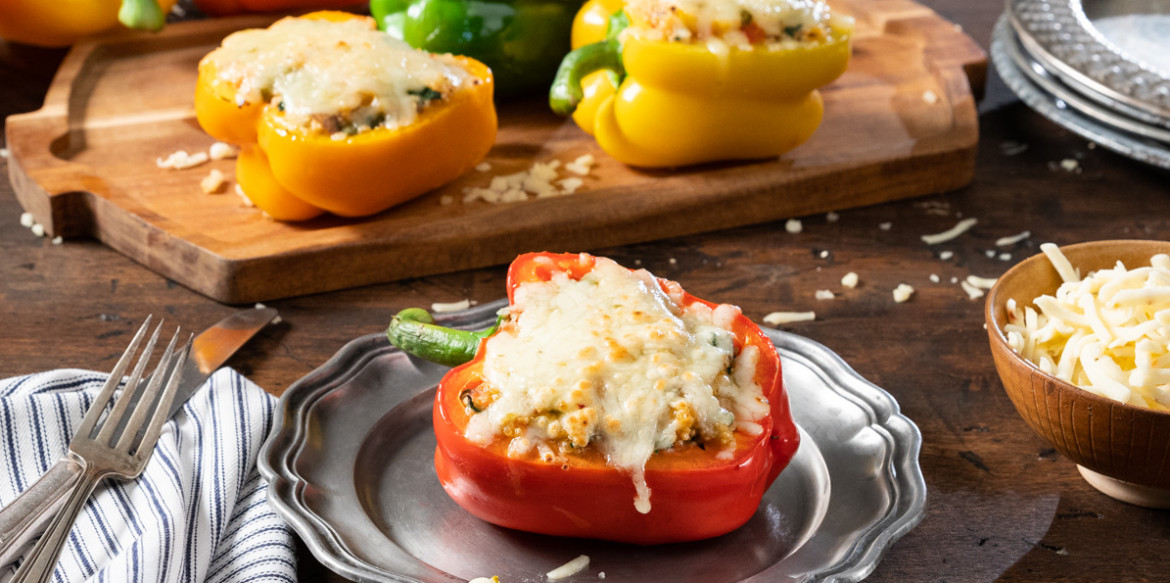 ---
<p>Sweet bell peppers stuffed with quinoa, mushrooms, spinach and lots of Sargento Shredded Cheese is the perfect way to use this versatile vegetable when they are in season. Grilling them makes them even better. &nbsp;&nbsp;</p>
Ingredients
4 ea. sweet bell peppers (green, yellow, red or orange)
1 tsp olive oil
FILLING:
1 cup Crimini mushrooms, chopped
2 tsp minced garlic
1/2 cup chopped tomato
1 cup vegetable broth or water
1/2 cup uncooked quinoa
1 tsp kosher salt
1/2 tsp course ground black pepper
1 cup baby spinach, chopped
2 cups Sargento® Shredded Pepper Jack Cheese
Directions
Pre-heat grill.
Cut one third of each pepper with a knife lengthwise. Dice the removed 1/3 of each pepper and transfer to a large bowl. Set aside. Remove seeds from remaining peppers and rub outside of peppers with oil. Place on a baking sheet and set aside while making filling.
FILLING:
Pre-heat a large skillet over medium heat. Add remaining olive oil. Add mushrooms and garlic. Cook mushrooms for 2-3 minutes or until softened. Add tomato and cook one minute. Add broth and bring to a boil. Add quinoa, salt and pepper. Cover and simmer on low for 15 minutes or until liquid is almost adsorbed. Remove from heat. Stir in spinach and half of cheese. Set aside to cool for 10 minutes.
Spoon filling into peppers, mounding if necessary. Wrap each stuffed pepper with heavy duty aluminum foil.
Place peppers over indirect heat for 10-15 minutes or until peppers are soft when squeezed with tongs.
Transfer peppers to a plate with tongs. Partially unwrap peppers to expose filling. Add remaining cheese to the top, then return to grill. Grill open for 5 minutes or until cheese is melted. Transfer to a platter and serve.
---