Pork Chops with Broccoli
Prep Time: 15 min | Cook Time: 10 min | Servings: 4 | Calories: 491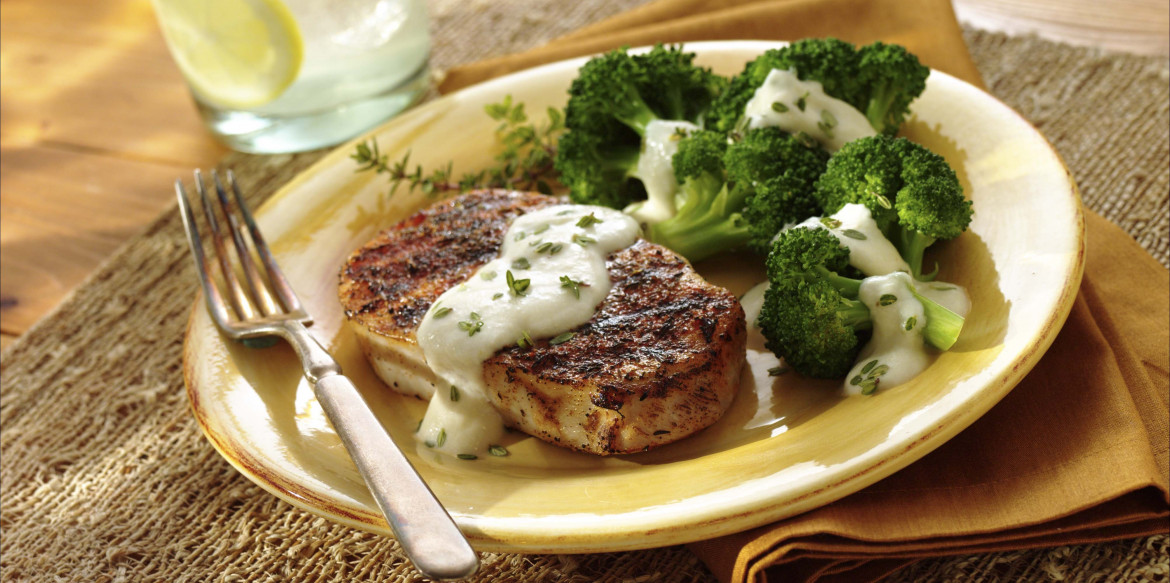 ---
<p>A simple meal with not-so-simple flavors is totally achievable with our recipe for pork chops. They're seasoned with paprika, thyme and garlic — and grilled until ideal doneness then topped with a velvety sauce made from cream cheese and Sargento® Shredded Sharp Cheddar Cheese - Traditional Cut.</p>
Ingredients
1 tsp. paprika or smoked paprika
1 tsp. dried thyme leaves
1/2 tsp. garlic salt
1/4 tsp. freshly ground black pepper
4 (1-inch thick) boneless center cut pork chops (1-1/4 to 1-1/2 lb.)
1/2 cup light or regular sour cream
2 tsp. prepared horseradish
3 cups hot cooked broccoli florets
1 Tbsp. chopped fresh thyme or parsley (optional)
Directions
Combine paprika, dried thyme, garlic salt and pepper; rub over both sides of pork chops.
Cook chops in a preheated nonstick grill pan over medium heat or on a charcoal or gas grill 4 to 5 minutes per side or until chops are barely pink in center (145°F internal temperature).
Meanwhile, combine cheese and sour cream in a microwave-safe bowl. Cook uncovered on medium (50%) power 1 minute. Stir; continue cooking on medium 1 to 2 minutes or until cheese is just melted. Stir in horseradish; spoon over pork chops and broccoli. Garnish with thyme if desired.
---