Fiesta Chicken Breasts
Prep Time: 10 min | Cook Time: 25 min | Servings: 6 | Calories: 365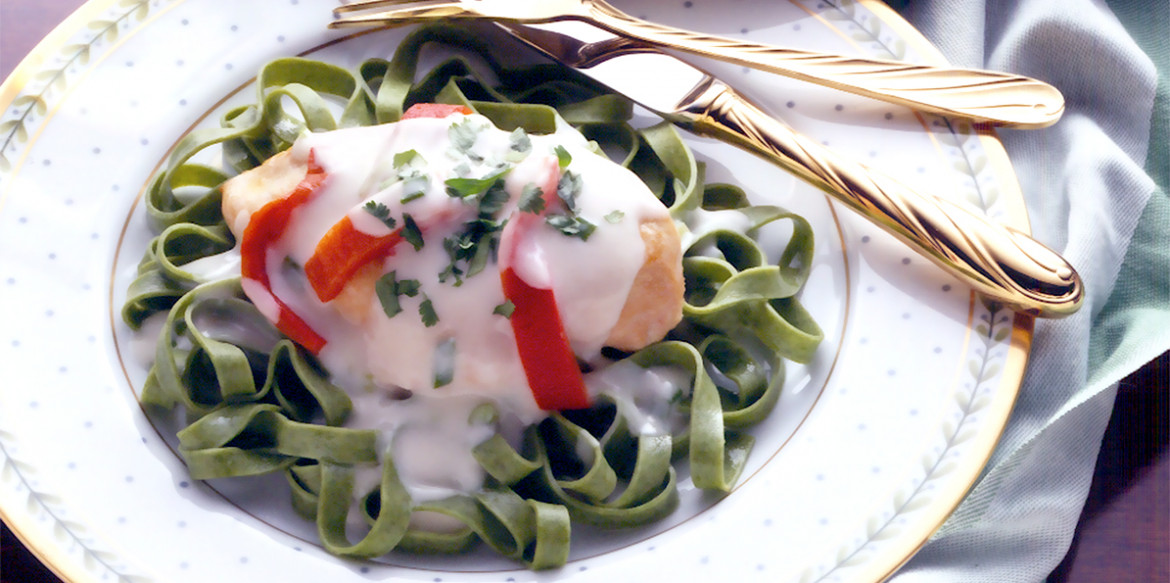 ---
Buttery fettuccine noodles are topped with hearty seasoned chicken breasts and covered in a creamy sauce made from chicken broth and sherry along with roasted red peppers. Top with a sprinkling of melted Sargento® Shredded Monterey Jack Cheese for a perfectly velvety texture.
Ingredients
12 oz. spinach fettuccine or linguine
3 Tbsp. butter or margarine
6 boneless, skinless chicken breast halves
1 jar (7 oz.) roasted red peppers, drained, cut into 1/2-inch strips
1 green onion, thinly sliced
1/4 cup all-purpose flour
1 cup chicken broth
1 cup milk
1/4 cup dry white wine
1/4 cup chopped fresh cilantro
Directions
Cook fettuccine according to package directions. Drain well and transfer to serving platter; keep warm.
Melt butter in large skillet over medium heat. Add chicken; cook 5 minutes per side or until golden brown and cooked through. Place chicken over fettuccine. Top with pepper strips; keep warm.
Add green onion to drippings in skillet; cook 1 minute. Add flour; cook 1 minute, stirring constantly. Add broth, milk and wine. Heat to a boil and cook until thickened, stirring constantly. Add cheese; stir until melted. Pour evenly over chicken, peppers and fettuccine. Sprinkle with cilantro.
---