Chicken and Vegetable Parmesan Pasta
Prep Time: 15 min | Cook Time: 10 min | Servings: 4 | Calories: 558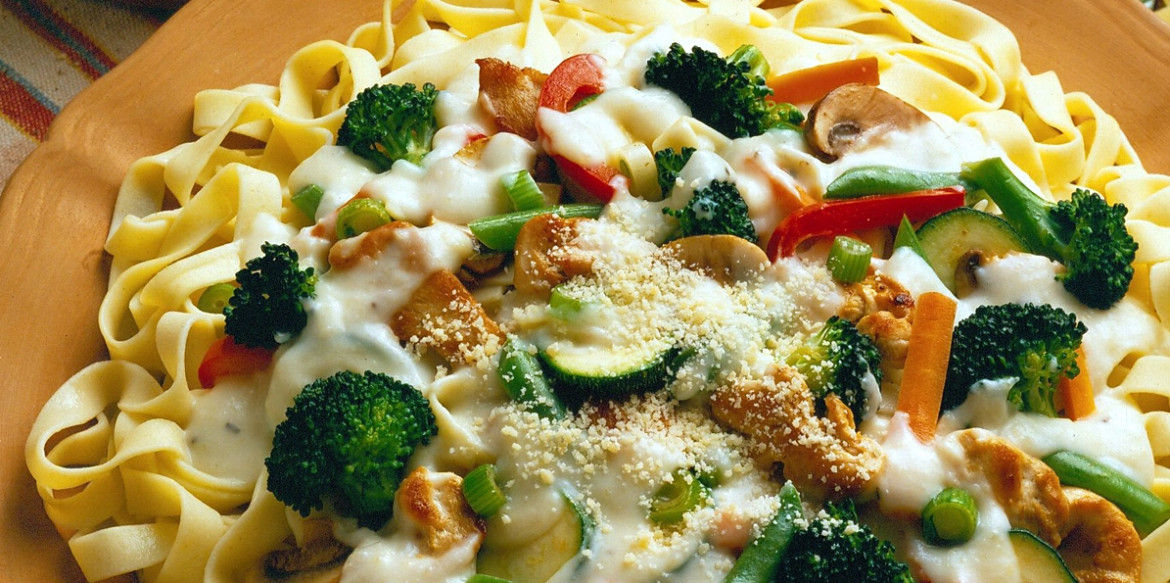 ---
<p>Busy week nights call for quick and easy meals with few ingredients and straight-forward preparation. This pasta dish fits the bill. It has a delicious sauce with Sargento®&nbsp;Parmesan Cheese served over chicken, fresh vegetables and pasta.</p>
Ingredients
4 Tbsp. butter or margarine, divided
3 Tbsp. all-purpose flour
3 cups skim milk
3/4 cup Sargento® Grated Parmesan Cheese
1/4 tsp. salt
1/4 tsp. pepper
1 tsp. dried basil
1 Tbsp. vegetable oil
3 boneless, skinless chicken breast halves, thinly sliced
1/4 cup thinly sliced green onions
4 cups chopped fresh vegetables (broccoli, mushrooms, bell peppers, celery, etc.)
1/2 lb. pasta, cooked and drained
Directions
Melt 2 tablespoons butter in medium saucepan. Add flour and cook 2 minutes. Whisk in milk. Heat to simmer. Cook over medium heat until thickened, stirring constantly. Remove from heat. Stir in cheese, salt, pepper and basil; set aside.
Heat remaining butter and oil in large skillet. Add chicken and stir over medium heat until cooked through. Stir into cheese sauce.
Cook onions and chopped vegetables in same skillet 5 minutes or until tender but still crunchy. Stir into cheese sauce. Pour over cooked pasta and serve with additional Parmesan cheese.
---