Easy Brunch Quiche
Prep Time: 20 min | Cook Time: 50 min | Servings: 8 | Calories: 247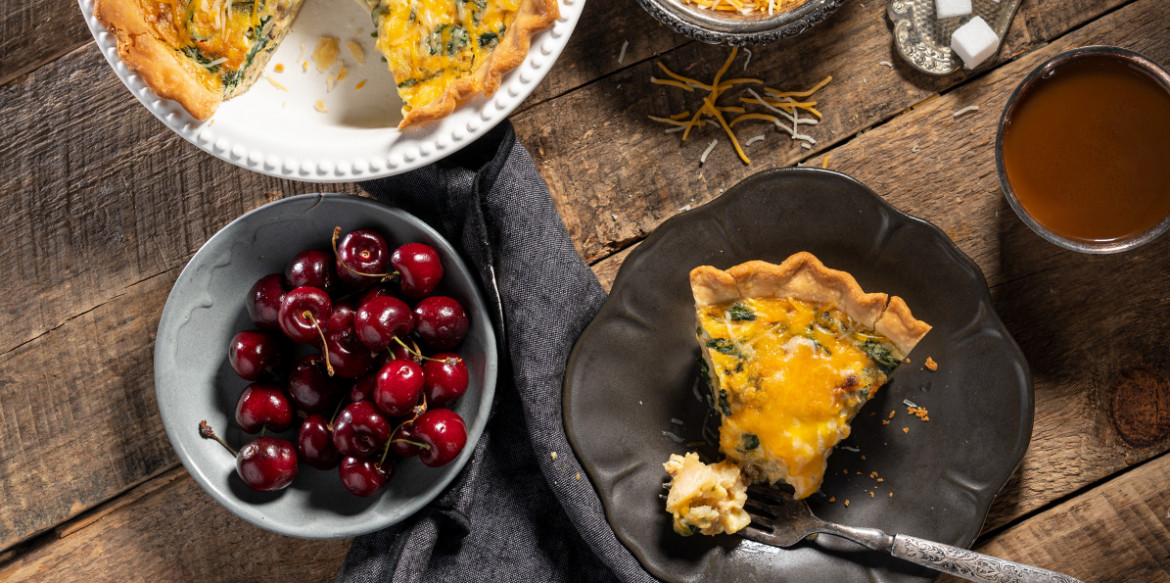 ---
<p>If you need a morning meal that's delicious and easy, this recipe has you covered. A buttery pie crust is filled with a mixture of fluffy eggs, hash browns with onions and peppers, baby spinach and Sargento® Shredded Colby-Jack Cheese - Fine Cut. It's a sublime cheesy taste in every bite.</p>
Ingredients
2 Tbsp. vegetable oil
2 cups frozen hash brown potatoes with peppers and onions, thawed
4 cups (6 oz.) baby spinach leaves
1/2 tsp. salt
1/4 tsp. pepper
1 (9-inch) unbaked deep-dish pie crust
3 large eggs or 3/4 cup egg substitute
1-1/4 cups milk or half-and-half
Sour cream (optional)
Directions
Heat oil in large skillet over medium-high heat until hot. Add potatoes; cook 5 minutes or until browned, stirring occasionally. Add spinach; cover. Reduce heat to low; cook 3 minutes or until spinach is wilted. Remove from heat; add salt and pepper.
Fit pie crust into 9-inch pie plate; flute edges. Beat eggs in large bowl. Add milk, spinach mixture and 1-1/2 cups cheese; mix well. Pour mixture into pie shell.
Bake in preheated 375°F oven 50 minutes or until center is set. Remove from oven; sprinkle with remaining cheese. Let stand 10 minutes; serve warm or at room temperature. Serve with sour cream, if desired.
---