Breakfast Pizza
Prep Time: 1 HOUR | Cook Time: 20 MIN | Servings: 4 | Calories: 720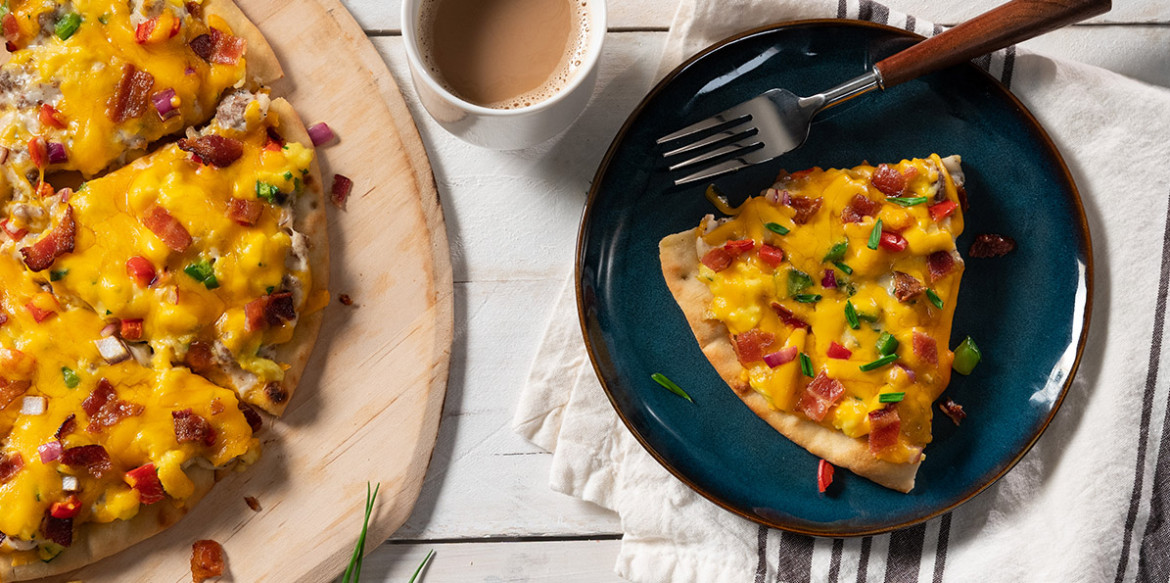 ---
<p>Since breakfast is the most important meal of the day and pizza is one of the most popular foods, why not combine them with this spectacular breakfast pizza?&nbsp; Prepared pizza crust is topped with sausage gravy, herbed scrambled eggs, peppers, onions, lots of Sargento Shredded Cheddar Cheese and crumbled bacon</p>
Ingredients
5 lg. Eggs, beaten
1/2 Tbsp. Fresh parsley, chopped
1/2 Tbsp. Fresh chives, chopped
2 Tbsp. Butter, divided
2 Tbsp. Flour
3/4 cup Milk
1/2 tsp. Kosher salt
1/4 tsp. Black pepper
1/8 tsp. Nutmeg
4 oz. Fresh pork sausage, cooked and crumbled
1 ea. 12" Par-baked pizza crust
1/3 cup Sweet red bell pepper, diced
1/3 cup Sweet green bell pepper, diced
1/3 cup Yellow onion, diced
4 strips Bacon, cooked & crumbled
Directions
Pre-heat oven to 425 degrees. In a medium bowl, combine eggs, parsley and chives. Pour into a large non-stick skillet and cook over medium low heat for 7-10 minutes, stirring constantly with a rubber spatula, until eggs are scrambled but still very wet. Stir in 1 tablespoon of butter and transfer to a shallow bowl. Set aside.
To prepare sausage gravy: Pre-heat a small saucepan over medium low heat. Add remaining tablespoon of butter. When butter has melted, stir in flour and cook for 2-3 minutes or until cooked but not browned. Whisk in milk. Cook until mixture thickens. Add salt, pepper and nutmeg. Stir in cooked sausage.
To assemble pizza: Spoon prepared sausage gravy over cheese and spread with the back of a spoon to 1/2" of the edge. Spoon scrambled eggs over gravy. Sprinkle half of diced peppers and onion strips over eggs. Top with cheese. Sprinkle remaining peppers and onions over cheese.
Transfer pizza to oven and bake for 12-14 minutes or until cheese is melted. RTemove from oven and top with crumbled bacon. Cut into wedges and serve.
Note: A homemade pizza crust can be substituted for the store bought pre-baked pizza crust in this recipe.
---