Zucchini Mac & Cheese Recipe
Prep Time: 10 min | Cook Time: 10 min | Servings: 4 | Calories: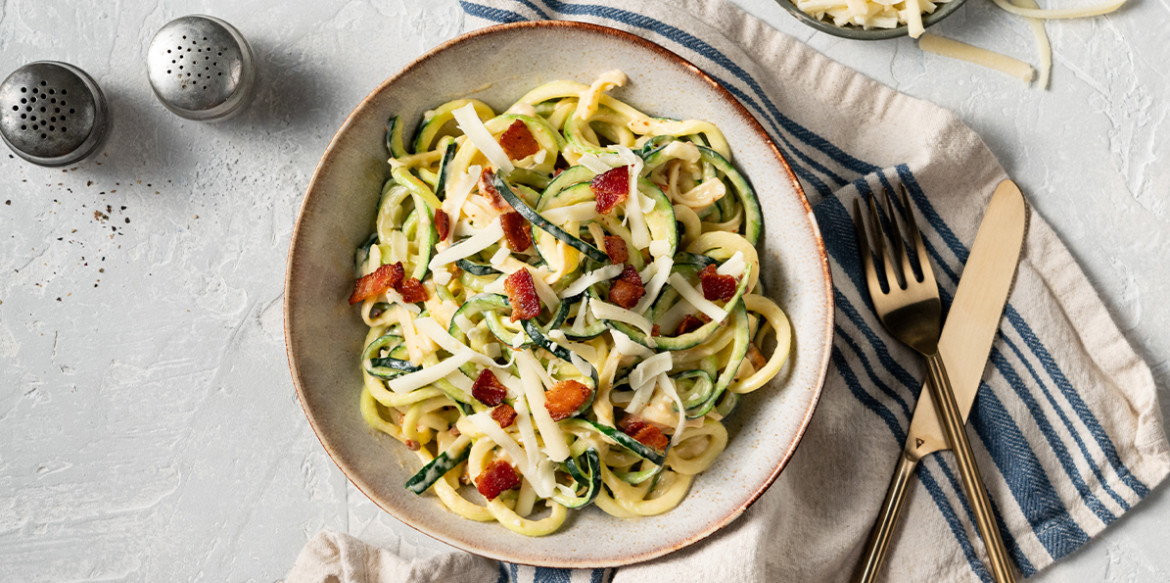 ---
This mac & cheese uses zucchini noodles that you can find in the grocery store produce section or that you can make if you have a vegetable spiralizer. Sun-dried tomatoes, bacon and Sargento® Reserve Series™ Aged Italian Blend Cheese bring layers of complex flavor to this dish, a great "pasta" option!
Ingredients
1 tbsp. Olive oil
1 tsp. Kosher salt
10 cups Pre-cut zucchini noodles
1 cup Chicken or vegetable broth
1 cup Heavy whipping cream
2 tbsp. Butter
1 ½ cups Sargento® Reserve Series™ Aged Italian Blend
1 tbsp. Cornstarch
½ cup Sun-dried tomatoes packed in oil, chopped
4 slices Cooked bacon, crumbled
Directions
In a large saucepan, bring 6 cups of water to a simmer over low heat. Add olive oil and salt.
Add zucchini noodles. Cook for one minute, then plunge noodles into an ice bath to stop the cooking process. Drain well and pat dry on a clean dish towel. Set-aside.
Pre-heat a large skillet over medium heat. Add chicken broth and cream. Bring a boil. Combine cheese and cornstarch, then stir into broth mixture. Cook until Thickened(about 2 minutes) Gently fold in sun-dried tomatoes and zucchini noodles.
Remove pan from heat and spoon cheesy zucchini noodles onto plates. Sprinkle crumbled bacon on top and serve.
---