Snake Sandwich Recipe
Prep Time: 20 Min | Cook Time: 25 Min | Servings: | Calories: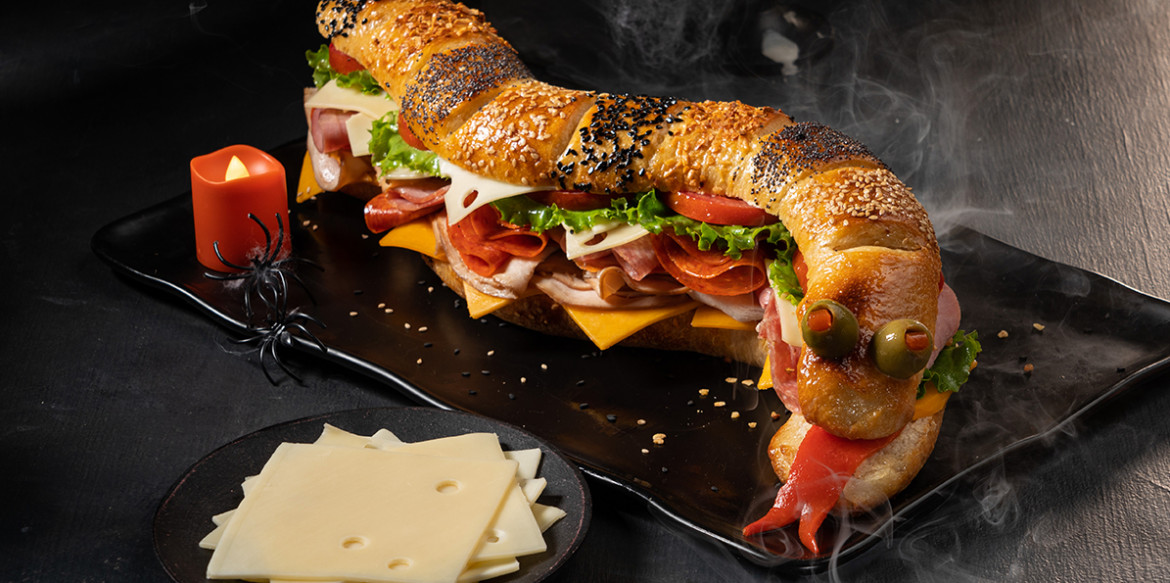 ---
You'll love the look on your kids faces when you put this slithery snake sandwich on the table. French loaf is formed into a snake shape, baked, split in half and topped with your favorite deli meats, lettuce, tomato and plenty of Sargento® Slices. Olive eyes and a roasted pepper tongue complete this Halloween sandwich.
Ingredients
1 tube Refrigerated French loaf dough(11 ozs.)
1 lg. Egg, beaten
½ cup Mayonnaise
1 ½ lbs. Assorted deli meats(turkey, ham, salami, pepperoni, roast beef, etc.)
4 lg. Leaf lettuce leaves
1 lg. Tomato, thinly sliced
Directions
Pre-heat oven to 350 degrees. Unroll bread dough from package, and transfer to a large baking sheet lined with parchment paper or non-stick foil.
Pull and pinch one end of the dough to resemble a snakes head, then make a 3 inch horizontal slit in the end for the mouth. Pull both sides of the dough apart to open the dough.
Pull and squeeze the other end of the dough to form the tail of the snake.
Curve the dough on the baking sheet back and forth to resemble a snake slithering.
Starting just past the head, brush 2 inch wide strips on the dough with beaten egg, then sprinkle with sesame seeds. Repeat this process with the egg, poppy seeds, minced onion, and black sesame seeds to imitate the look of a snake's stripes. Brush head with egg.
Bake for 20-25 minutes or until golden brown. Remove from oven and cool completely.
Split bread snake horizontally with a bread knife. Brush both sides with mayonnaise, then layer meats, cheeses and vegetables on the bottom. Replace top, then secure with toothpicks.
Skewer 2 pimento stuffed olives and stick into the head of the snake for eyes. Cut a 3" strip of roasted pepper, and cut a slit in the end to resemble a forked tongue. Place it loosely in the mouth. Cut into 3- inch sections and serve.
---